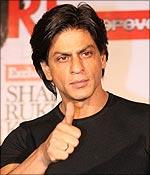 Red Chillies Entertainment, run by actor Shah Rukh Khan, who had come under fire from Shiv Sena for his support to Pakistani players during IPL bidding, has wished Sena executive president Uddhav Thackeray on his 50th birthday on Tuesday.
A half-page advertisement by the company greeting Uddhav appeared on Tuesday in Sena mouthpiece Saamana's supplement, a 96-page pullout brought out to mark the occasion, which is seen as a move by Shah Rukh to placate the Sena.
The 44-year-old actor was the target of Sena ire for his support to Pakistani cricketers during Indian Premier League (IPL) bidding earlier this year.
Shiv Sainiks had also held angry demonstrations at theatres, seeking a ban on the actor's film My Name Is Khan in February.
Sena chief Bal Thackeray had also attacked Shah Rukh.