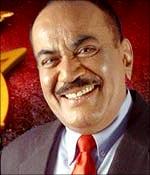 C.I.D is the longest-running series on Indian television, having had a 12-year uninterrupted run on Sony Entertainment Television (SET) since January 21, 1998, when it first began airing.
It's also the programme with the highest ratings on the channel, currently averaging between 2.8 and 3.
Its actors, or at least the core of the cast who have been a part of the series since its inception, ACP Pradyuman and Inspectors Abhijeet, Daya and Fredericks, are so popular they have become household names.
Earlier this year, SET -- which lags far behind Star Plus, Colours and Zee TV in the Hindi entertainment space -- was airing as many as 50 hours of C.I.D a week, digging into its library to run repeats of past episodes. Talk about flogging a golden goose! SET has since brought down its C.I.D programming to 25 hours or so -- but that's high enough still.
The serial has always been widely watched, but it's only now that SET seems to be waking up to its potential. Around a month ago, the frequency of telecast was increased to twice a week; from the Friday night late slot, C.I.D now has hour-long runs on Friday and Saturday.
Keen to capitalise on the brand, SET also has extensions planned, both on-TV and off it. First off, says Ajith Thakur, SET's executive vice-president and business head, are C.I.D comic books that will hit the markets by year-end. A C.I.D animation series is also in the works, and so is a feature film which will go on the floors early next year, says B P Singh, the serial's creator, producer, and occasional director as well.
Off-air, the C.I.D Gallantry awards, which were given for the first time last year, are to be made into an annual affair, reports Thakur, with a high-profile awards ceremony on either Independence or Republic Day.
Which brings us back to the question -- what explains C.I.D's success, especially since, as a genre, crime thrillers have had very little success on Indian TV? Even SET's own Powder, the crime thriller from Yash Raj productions that was announced with much fanfare in January this year, was taken off air last month.
The main reason, perhaps, is the fact that it's a programme that can be watched by everyone from 10 to 80 years of age, in the A-cities as well as the B-towns. Though crime is the subject, there's very little of violence, or blood, actually shown -- and "no crime against women or children", says Ajay Bhalwankar, SET's programming head.
"The serial enjoys huge traction among the youth," says Niret Alva, chairman of production company Miditech, who confesses he watches it regularly with his two children. "The stories are basic, not too clever, not too smart. Very rarely do you get the feeling that you've come across this idea before. Besides, it's been around for so long that the faces have grown familiar."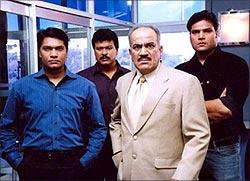 Much of the credit for C.I.D's success should go to Singh, and its cast, especially Shivaji Satam who plays ACP Pradyuman.
A veteran of the Marathi stage, Satam has brought a degree of believability to the uni-dimensional character of a no-nonsense police officer who will not rest until the crime is solved, a tough boss for whom duty comes before everything else, and who expects his team to live by the same iron ethic.
"We call him 'Father Hardstone'," says Singh, who first directed him in Ek Shunya Shunya, a hit on Doordarshan in the 1990s that was based on real cases the Mumbai police had worked on.
In reality, says Singh, it is Satam who has held together the actors over the past 12 years through the gruelling 12-hour schedules lasting 20-25 days a month.
And it's not just the actors who haven't changed. Key members of the technical team, too, have remained with the serial for years now -- Bill D'Souza, who heads the team of seven writers, has been around for 10 years, as has executive producer Christabelle D'Souza; Sachindra Vats, the editor, has been around for five years now, and Sanjay Wandrekar has been composing the background music since the very beginning.
Working so long on one show has given the team what Alva calls "the purity of narrow focus", giving it a consistency that partly explains C.I.D's success.
There have been some changes of course -- around six months back, C.I.D started to be filmed in HD format. Work conditions, which were so basic that Satam remembers carrying his own costume and holding lights for other actors, have also improved vastly.
Whoever said crime doesn't pay?