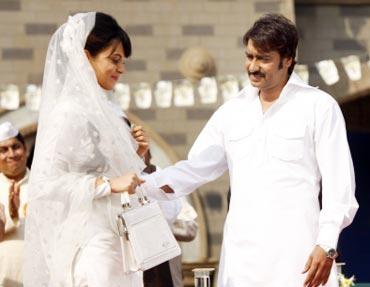 Balaji Telefilms, producers of Once Upon A Time In Mumbai, on Wednesday agreed to issue a press statement saying that the movie is not based on the life of alleged late smuggler Haji Mastan, paving way for its release on July 30.
With this, the Bombay High Court disposed of the application filed by Haji Mastan's adoptive son Sundar Shekhar alias Suleiman Mirza, who had sought stay to the film's release and a preview screening.
He had contended that he needed to see the film prior to the release to check if there was any thing defamatory in it. But Justice R C Chavan did not grant such a relief.
The media statement, to be issued on Wednesday itself, would mention that producers have "never represented to before anyone that the film is based on Haji Mastan Mirzha...is a pure work of fiction" and characters therein are fictitious.
The statement will be in addition to the disclaimer to the same effect in the beginning of the film. The Sessions Court had earlier directed that a disclaimer be inserted in the film stating that it was not based on Mastan's life.
Kangna Ranaut and Ajay Devgn in Once Upon A Time In Mumbai.