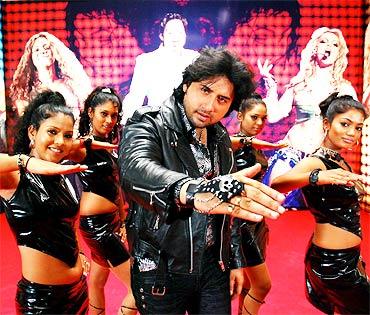 Actor Saurav has turned pop singer.
But this is only for his upcoming Kannada release Nee Bandu Nintaga.
Saurav, who was last seen in Navagraha as a police officer, is returning to the big screen with this film. He is even producing the same.
"Two of the film's producers were new to the industry and couldn't get a hang of the industry's ways and that's when I decided to chip in," says this first time producer. 
Nee Bandu Nintaga is a love story with a strong climax according to the team.
Jessica Shree who had played Madhavan's leading lady in Tambi is the heroine. Ramesh Bhat and Bullet Prakash are also part of the cast. Shekar Sharavanan who served as an associate in Tamil film Majaa is directing the film. Music is by Ram Narayan.
"I'm positive that the title track of our film will become a popular ringtone," says Saurav.
Given that this is the actor's first venture as a producer and his comeback film as a hero, he does not forget to express gratitude to his longtime friend and superstar Darshan for all the encouragement he has received from him.
"I had been in the industry for over 12 years and had not yet seen significant success. Lack of quality projects left me dejected and I almost quit the industry to take up another job, given my engineering background. My son's death three years ago added to my depression. I even landed a job in Chennai. Just before leaving, I called Darshan to let him know of my plans. He came to see me immediately and convinced me to stay back in the industry, offered some financial support and even ensured that I got a role in Kannada film Honeymoon Express. Thereafter I got offers to act in Hindi films like The Train starring Emraan Hashmi and Zayed Khan's Rocky. I also acted as the lead in several Bhojpuri films and even acted in the Telugu remake of Sarfarosh. Then I acted in Darshan's home production Navagraha and now I'm here with Nee Bandu Nintaga," he says.
The story goes that Saurav had helped Darshan in his early days by getting him a role in one of his films and even sharing his remunerations with the latter. And thus started a close bond of friendship between the two.
Saurav has acted in 16 films so far, while he debuted with Gulabi, he was offered the lead role in Bhootayana Makkalu, in which Darshan played the villain. Jhoot also is among Saurav's films.
Nee Bandu Nintaga releases this Friday.