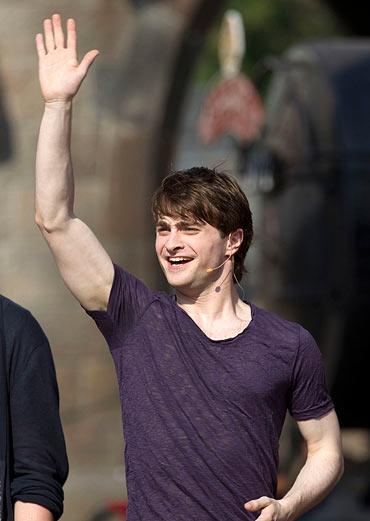 For a decade, British actor Daniel Radcliffe has been, more or less, Harry Potter -- a slightly awkward but profoundly powerful and precocious boy wizard.
Now that filming for the seventh and eighth parts of the eight-film series is complete, it seems Radcliffe is ready to grow up!
Recently celebrating his 21st birthday with two friends in St Petersburg, Radcliffe was photographed in happy, intoxicated bliss. But by night's end, he looked decidedly worse for wear.
The pictures reveal that, at one point, Radcliffe actually grabbed a bottle of vodka -- that Russian standby -- and made sure his peg was a hefty one!
The UK's Daily Mail tabloid reports that Radcliffe's Harry Potter contract included a good behaviour clause, which prevented him from letting his hair down and getting wild all these years. Now that his Potter obligations have been fulfilled, it seems the youngster's ready for some fun!
The star, who's worth over Rs 300 crore, will begin shooting in October for his major role, as a lawyer in the film adaptation of novel Woman In Black.
Image: Daniel Radcliffe waves to the fans gathered for the grand opening of The Wizarding World of Harry Potter at the Universal Studio Resort in Orlando. Photograph: Scott Audette/Reuters