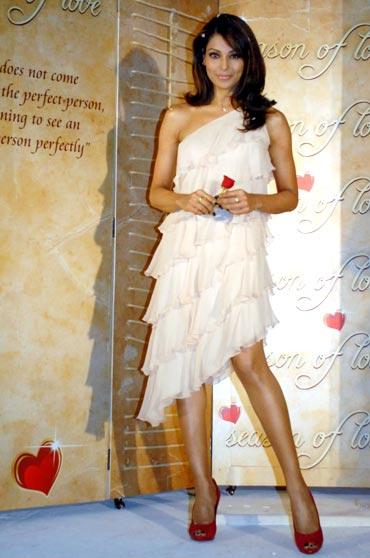 Twitter is brimming with her namesakes, but the social networking website popular among Bollywood stars will soon get the real McCoy as Bipasha Basu plans to start tweeting soon.
The Bong bombshell is excited about launching her own Twitter page as many of her friends are already members of the website.
"I am not on Twitter right now, but it is exciting and I am going to join very soon," said Bipasha who was in New Delhi to launch a new line of mobile phones.
The 31-year-old actress is meanwhile gearing up for the International Indian Film Academy Awards that will be held in Colombo.
"I will be performing during the awards night and I am leaving for Colombo tomorrow for the IIFA weekend. It's going to be an amazing show and I am really excited about it," said the actress.
The dusky beauty is enjoying a career high and her personal life is also going great guns as is evident from the Filmfare cover she shot with boyfriend John Abraham where the scorching couple is shown lounging together on a bed.
One of the shared passions of the couple is football and Bipasha plans to catch some of the action happening on the pitch during the upcoming FIFA World Cup.
"I love football and I will fly to South Africa for one of the semi-finals or the final. I am not supporting any particular team though, I will just cheer for the side that is playing well," said the actress.
Bipasha has just finished the dubbing of Lamhaa, the Rahul Dholakia film which revolves around the militancy issue in Kashmir.
"The film is going to release on July 16 and I am looking forward to the audience response," said Bipasha. The actress will be seen playing a Kashmiri girl in the film and the role required her to learn Urdu and go for a de-glammed look.
Photograph: Pradeep Bandekar