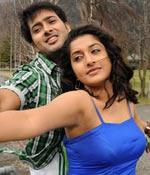 It's the 87th birthday of Tamil Nadu Chief Minister, Kalaignar M Karunanidhi today (June 3, 2010), and quite appropriately, J Nandini's Tamil film Pen Singam (She Lion), based on his story Surulimalai, makes its appearance, directed by Bali Srirangam.
His is the screenplay and dialogue as well. The cast boasts of National Award winner Meera Jasmine in a prominent role (you assume). Except that that's not quite the case.
The story starts with the escape of Surya (Uday Kiran) from prison, with the help of the inmates. In hot pursuit by the authorities, Surya pauses to see a huge poster of himself on the wall, for his arrest. It's the cue for a flashback.
We're in Thirukkuvalai, the Chief Minister's place of birth (marked out by plenty of boards, school, the house he was born in and which is now a library/reading-room in memory of his parents, and so on) where Mekala (Meera Jasmine), a hard-working student has just completed her post-graduation amidst her family protests. 
Her father can barely afford her sister's education and wishes she would understand their position (this doesn't explain how Mekala happens to wear beautiful salwar kameez sets every day, or makeup). And so Mekala gets a job as computer operator in the Forestry Department. Around the same time arrives Surya, transferred to Chennai, as the IFS officer in charge.
The two fall for each other immediately post Mekala's fiery performance as Velu Nachiar (again written by the Chief Minister, with voiceovers by poets Vairamuthu and Thamizachi) and after a couple of Deva's lackluster duets, pledge themselves to each other.
In the meantime, there's another love-track in the offing: spitfire social activist for women empowerment Nagendran (Richard, after a hiatus), the complete creator clad in long, oily hair, falls for rich college girl Prabhavathi. 
Theirs is a whirlwind love-affair that gains the approval of her father (Vagai Chandrasekar) and culminates in marriage, courtesy Surya's mother, Judge Chandramathi's (Rohini) efforts. But a shock awaits the young girl.
Back to Surya, he (predictably), gets involved with local timber-smuggler Singaperumal (Radha Ravi) and his cohorts, enabling him to suddenly give up his mild avatar and become Superman, courtesy special effects, slow-motion and Vijay Ragav's cinematography.
In a fight sequence involving rain, a pregnant lady and lots of slush, even Mekala gets to prove a point (and lay the foundation for the second half of the story) and cracks a club at the enemies. The upshot? She decides to go in for the IPS and departs for training (no questions asked about the resources for her education).
Trouble brews in the Prabhavati-Nagendran marriage; Surya is caught red-handed in a murder and Mekala becomes the She-Lion who has to save her beloved. Except that she doesn't.
Far from fighting tooth and nail in getting Surya freed from the cruel clutches of law, it's Chandramathi who shoulders the Lion's share of the work. And she really does put in her best effort, even getting CDs to be admitted as evidence in a court of law! If you can't guess the ending, then you have no idea what Tamil cinema's all about.
There's no chance for Meera Jasmine to shine: she widens her eyes, frowns or scowls in a few scenes, dutifully dances duets abroad and that's pretty much it. There's precious little of the Pen Singam in her; she manages to look cute in the khaki uniform and breezes through investigation in glitzy saris.
The real woman of force is Rohini, who, in her lawyer avatar really does manage to carry the second half of the film on her slender shoulders. Uday Kiran, Radha Ravi, Vagai Chandrasekar et al don't make an impact, while Richard briefly snags your attention.
Technically, the film manages to scrape through; it's the script that stumbles and almost grinds to a halt frequently, while the cast itself looks clueless and plain out of it, at times. Logic has gone for a toss as well and of reason, there's very little.
All in all, this Pen Singam is no queen of the jungle.
Rediff Rating: