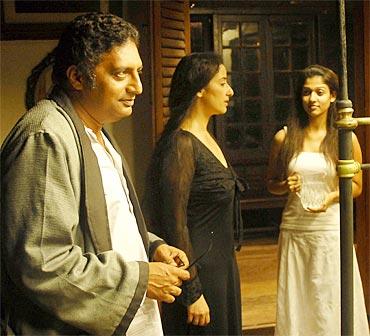 Director Shyamaprasad is known for his fine portrayal of complex human emotions in his movies.
His latest Malayalam venture, Elektra is an adaptation of a classic Greek play and is mainly about tumultuous relationships within a family.
South Indian sensation Nayantara is playing the role of Elektra, with Prakash Raj and Manisha Koirala playing her parents.
With films like Agnisakshi, Akale, Ore Kadal and Rithu among others to his credit, Shyamaprasad has become one of the finest filmmakers in Malayalam cinema.
Nayantara, who was last seen in Siddque's Bodyguard with Dileep, is quite excited about her role of Elektra Alexander. Her character comes from a troubled family background, which has an effect on her as well.
Manisha Koirala, who has earlier been part of quite a few Tamil films like Bombay, Indian, Muthalvan and Baba is acting in a Malayalam film for the first time.
Biju Menon, Skanda, P Sreekumar and KPAC Lalitha include the rest of the cast.
Cinematography is by Sanu J Verghese, who recently cranked the camera for the Hindi film, Karthik Calling Karthik. The music director is Alphons Joseph (of the song Aaromale from Vinnaithandi Varuvaya).
Elektra is being produced by Vindhyan under the banner of Rasika Entertainment.
Image: Prakash Raj, Manisha Koirala and Nayantara in Elektra.