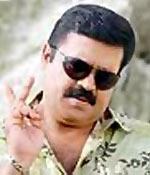 Malayalam film Ring Tone, directed by newcomer Ajmal stars Suresh Gopi as the hero.
After watching the movie, the question that comes to mind is, what convinced the veteran to do the film?
Because this film does not have any story to boast of, and even the treatment is tacky. Maybe the fact that the actor gets another go at playing a police man with his trademark pistol is reason enough for him to do the film.

Be that as it may, the film also involves Krishna (Bala) and Meera (Megha Nair). Krishna is a hot headed young man running a gymnasium, who gets even with the police when he sees his activist mother lathi charged. He gets into a truck carrying livestock to escape the wrath of the police. There he sees a pretty lady. And, as fate or whim of the writer would have it, the truck meets with an accident and they end up being the guest of good hearted Tamilian truck owner played by the late Rajan P Dev (which shows how dated this film is). The truck owner thinks they are lovers who have eloped. So, Meera and Krishna play along nearly fifty percent of the screen time before actually falling in love (while we keep wondering where all this is heading).

The story lacks cohesiveness with scant regard for continuity. Most of the story seems to have been developed on the spot giving it a shape of an ill fitted jigsaw puzzle.
Suresh Gopi looks lost. He may have played the role of a super cop all his life but, he would never have faced half a dozen of terrorists with automatic weapons only with his service pistol.
Bala looks sincere while Rajan P Dev deserved better. An attractive Megha Nair tries hard to fit into the typical  'damsel in distress' role. Sai Kumar is unintentionally funny as the menacing villain.
All in all, It is better to keep the phone in silent mode than hear this irritating Ring Tone.
Rediff Rating: