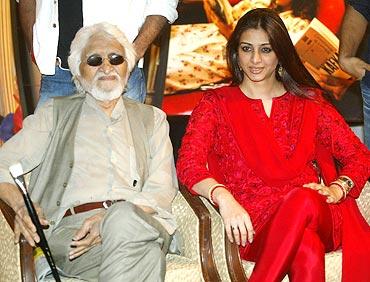 Earlier this year, legendary Indian painter MF Husain opted for Qatari citizenship, and settled into a new life in Doha.
It's not that he wanted to leave his home city of Mumbai [ Images ]. But countless cases of obscenity had been registered against the 94-year-old artist for depicting Hindu deities in an offensive manner, and there were concerns for his safety.
Now that Husain's had a few months to digest all that's happened to him, he's talking to Indian media again. Interestingly, in an interview with the Mumbai tabloid Mid-Day, Husain criticised many of Bollywood's best and brightest.
While admitting to veteran film journalist Khalid Mohamed that he cherishes Hindi cinema and makes an effort to see at least one film a week, Husain was also highly critical of the latest crop of Bollywood stars.
Hrithik Roshan's [ Images ] Kites received especial condemnation. 'It's a third-rate movie. It should be banned. Kuch tuk hi nahin tha. What was your friend Hrithik Roshan doing?' the artist told Mohamed.
He also lamented that Mexican actress Barbara Mori [ Images ] had been selected over an Indian star. 'I was horrified! Why cast her when so many of our girls are far more beautiful and talented?'
Others to face the wrath of Husain? Amitabh Bachchan [ Images ] ("full of contradictions"), Priyanka Chopra [ Images ] ("all about imaging"), Kareena Kapoor [ Images ] (Bilkul matchstick hai. She has come to destroy Saif Ali Khan [ Images ] and go away), Katrina Kaif [ Images ] ("zero in acting"), Kangna Raut ("looked ghostly"), etc.
In fact, the only current stars to escape criticism were Ranbir Kapoor [ Images ] and Vidya Balan [ Images ]. Husain seemed particularly smitten with Balan, saying he would like to cast her in a film some day. 'I'm absolutely bowled over by Vidya Balan. She conveys pure Indianness, feminine, sensual, without making an effort.'
So why all the venom directed at Bollywood? Mohamed's last question and Husain's answer is a bit revealing.
Khalid asked: "Are you surprised that no one from Bollywood has expressed concern about your situation?"
Husain's response: "But I never had genuine friends in Bollywood."
Image: MF Husain and Tabu [ Images ] at an event in 2004. Photograph: Jayanta Shaw/Reuters