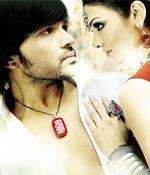 Composer-singer-actor Himesh Reshammiya has released the music of his upcoming movie Kajraare.
His fans will be happy to know that, of the album's 7 original songs and 4 remixes, a couple of the tracks are fabulous.
The music in Kajraare is definitely different from the music of his previous effort, Radio. Instead, Kajraare reminds one of a younger Himesh.
Let's start with the title song, which repeats the word 'kajraare' in typical Himesh style and has great corresponding music, making for an overall superb flavour and rhythm. In addition to Himesh, Sunidhi Chauhan's voice also plays a part in making the entire song a huge success.
Among all the other songs, Rabba luck barsa has a unique musical effect. Although the lyrics of the song are just common words you find in any other Himesh's songs, it is very well sung. The music is in synch with the visuals given in the film, where he is travelling in a lonely desert with a camel. The complete song is really enjoyable, and is definitely something you can hum along!
Himesh's ability as a composer can be best seen in those two songs. 
The next song, Tujhe dekhake armaan jaage, reminds listeners of his earlier music, like the most popular songs from Ashiq banaya aapne. Also, Shreya Ghoshal's vocals are awesome. Full marks to Himesh for this song.
The other four songs sound like modifications of Himesh's earlier songs from Aksar, Tom Dick & Harry, Shaaka Laaka Boom and Dil diya hai.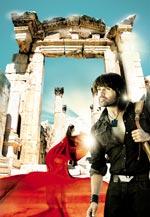 Woh lamha phir se jina hai is good but not great. 
Teriya Meriya is another classic song like Tandoori nights from Karzzz and Piya jaise laadu moti chur wale from Radio. 
Sanu guzara zamana and Afreen have nice rhythmic combinations of the tabla and dholak.  Pleasant music for those who love slow, ghazal-esque tunes.
The remix versions of Kajraare, Rabba luck barsa, Woh lamha phir se jeena hai and Sanu guzara zamana have nothing new to offer.  
Overall, the first three songs will be big hits, and the rest are good to listen.
Rediff Rating: