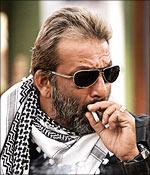 Following rave reviews and accolades for his hard-hitting Parzania, director Rahul Dholakia is back with another gritty offering.
Only Lamhaa, which is set amidst the troubled milieu of Kashmir, features a much more commercially-accomplished star cast of Sanjay Dutt and Bipasha Basu going de-glam.
After dishing out breezy compositions for Bas Ek Pal and The Train, the talented young composer Mithoon flexes his skills to helm the soundtrack of Lamhaa around Saeed Qadri and Amitabh Varma's feverish lyrics. 
The album kick starts on a supremely impressive note with Kshitij Tarey and Chinmayi's silky smooth rendition of Madno.  The understated beauty and anxiety of undeclared feelings is masterfully discussed under Madno's wandering, scenic melody. Regardless of its 8 minute length, Madno is simply too refreshing in content to complain. 
Saajnaa is yet another version of Madno. While there's no modification in the arrangement, Mika Singh replaces Kshitij to echo the dilemma of the afore-mentioned ditty in slightly altered lyrics. And so Madno, Mashuko and Dilbaro becomes Saajnaa and Mahiya.  It's mandatory to associate the flamboyant singer with lively, playing-to-the-gallery brand of chartbusters but Mika displays startling sensitivity for slow-paced, melancholic numbers as well.
Indian band Euphoria's lead singer Dr Palash Sen rues over the terror, gloom and uncertainty in Kashmir in the angst-personified Main kaun hoon. Intense in essence and throbbing in tone, Sen's mandolin-laced outburst is suitably effective.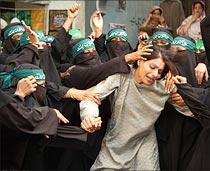 The forlorn mood continues with Kshitij Tarey's poignant delivery of Zameen-o-aasman. A mellow composition that aims to tug the heart-strings by resonating the condition of a heartbroken paradise.
Like Gangster's Ya Ali, Rehmat Zara is semi Sufi-rock creation wherein Mithoon pitches along with Mohammad Irfan to invoke a sense of urgency and action.
A bunch of delightful giggly kiddie sounds and voices chattering in Kashmiri opens this vibrant realisation of triumph when all hope's lost. Arun Daga and Mohammad Irfan slip into high-pitched mode conveying their chanting enthusiasm in Salaam zindagi.
Mithoon's nuanced creations in Lamhaa suggest the man's growth as a composer and a future filled with promise. Meanwhile, the soundtrack is filled with fine, discerning moments, which are high on both -- heart and hurt.
Rediff Rating: