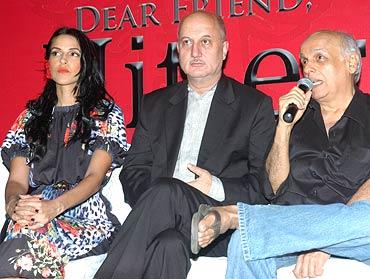 Anupam Kher has pulled out of the film, Dear Friend Hitler.
The move has come after many Jewish groups protested against his decision to play the German dictator who was responsible for killing innocent Jews.
On his Twitter account, Anupam said, "Sometimes human emotions are more important than cinema."
He further tweeted that "After 400 films in 26 years, I have the right to be wrong and still be happy."
Shooting for Dear Friend Hitler is supposed to begin in August with actress Neha Dhupia.
Rakesh Ranjan Kumar is the director.
Image: Neha Dhupia, Anupam Kher and Mahesh Bhatt at the launch party of Dear Friend Hitler on June 6 in Mumbai.
Photograph: Pradeep Bandekar