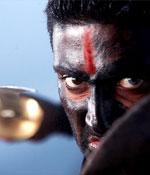 Aseem Chhabra reviews Raavan in New York.
Mani Ratnam's Raavan is an overwhelming film. At times a tad bit overproduced, the film is an onslaught of brilliant use of technology on the viewer's senses -- stunning cinematography, the fluidity of the camera, quick edits, loud soaring music, with the actors thrown into wild nature.
Ratnam working with his regular cinematographer Santosh Sivan and also V Manikandan, and editor A Sreekar Prasad, gives us a hellish vision -- an innocent woman Ragini (Aishwarya Rai Bachchan), kidnapped by a Veerappan-like outlaw, Beera (Abhishek Bachchan).
Much of the film is the cat and mouse game -- Beera and his gang, in harmony with the forests, rain, rivers, cliffs, mountains and a lot of mud, always a few steps ahead of the police force led by an officer Dev Sharma (Vikram), who also happens to be Ragini's husband.
Ratnam is one of the most remarkable filmmakers in India, taking unique story ideas -- although some with muddled political messages, working within the framework of popular cinema, and yet creating memorable films in Tamil, Hindi and other languages.
From the days when he used to shoot his films in one language (Roja, Bombay and Dil Se) and then dub them for other markets, he has now moved to working simultaneously on two parallel productions.
This time he shot Raavan in Hindi and Raavanan in Tamil -- shooting each scene back-to-back, with at least one actor interchanging roles. Vikram plays Dev in Raavan and then Veeraiya (Beera) in Raavanan, while Ash appears as Ragini in both films. He also has a third version -- Villain dubbed in Telugu.
That is a lot of ambition for a soft-spoken 54-year-old man, who first attended business school before becoming a filmmaker. There is ambition written all over Raavan and at most times it succeeds.
But it all happens at such speed that it takes a while to absorb the pace of Raavan. The film needs to be digested, absorbed and mulled over. The visual images are often so powerful and strong, each shot packed with so much activity -- rain, mud, trees, cliffs, and, of course, the actors, that many filmgoers will miss out on all that they see on the screen.
I tried to get ahead of Ratnam and started counting the number of edit cuts during the grand dance performance to the song Thok di Killi, but soon I felt I was on a roller coaster ride, and had to stop to breathe.
Raavan is Ratnam's interpretation of the Ramayana (yes, the rumours and speculations are true), with Bachchan, Ash and Vikram playing the roles of Ravana, Sita and Rama, respectively. And in one of the most brilliant strokes of casting, a delightful Govinda plays Sanjeevani -- a modern day Hanuman, playfully hopping from one spot to another as he joins Dev's mission to search for his wife.
The film is replete with references to the Ramayana -- from the 14 days it takes Dev to rescue his wife, to a disturbing take on the Soorpanaka story, which becomes the justification to the kidnapping of Ragini.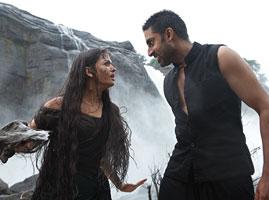 But Ratnam takes Raavan beyond the Ramayana. I am not giving away the ending, but I wonder what the purists and Hindu fundamentalists will think about the departures of the film from the religious text.
Ratnam gives us all shades of the three main characters. Beera is not always as evil as Ravana is often portrayed; Ragini's Sita has a strong inner core, and while she starts with hating Beera, she is sometimes in awe of his sudden spouts of gentleness; and Dev turns out to be the not so perfect Rama.
I wish the script and the film in general, had not spent so much time in its technological grandeur, because the real crucial conversation around the Ramayana starts to happen near the end of the film. By this time Beera, Ragini and Dev have stopped being the traditional Ravana, Sita and Rama.
That transition makes Raavan a significant milestone for modern India to move beyond the Ramayana as just a religious text. And so Raavan is perhaps Ratnam's most definite political film.
Bachchan's best work to date has been with Ratnam in Yuva and Guru. But here the actor goes beyond anything he could have imagined he was capable of doing. Through the film he stands tall, observing his landscape, his face twitching with myriads of thoughts and his menacing smile unnerving all those who come in contact with him. Bachchan has never worked this hard in a film and it shows in his performance.
Like him, his wife Ash also gives one of the strongest performances of her career. Few directors have succeeded in making us look beyond her beauty and see the actor in her. Rituparno Ghosh worked wonders with her in the under-appreciated Raincoat and Ratnam did that in Guru and now here in Raavan.
Vikram, a star in Tamil films, is a real find for the Bollywood industry.
The fate of Raavan and its Tamil and Telugu versions will be judged in the next few days by audiences across India and abroad. But this much is clear -- Ratnam, the quiet master, is in top form here. It will be a challenge for him to outdo himself.
Rediff Rating: