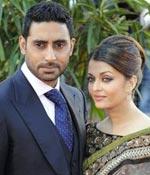 What is the difference between a genius and film-maker Mani Ratnam?
"He is truly a genius," says Tamil actor Vikram. "But he doesn't know it."
The 54-year-old film-maker has made more than 24 films, directing most of them in more than two decades.
"But here is a man who is treating Raavan like his first film. It is a do or die situation for him," Vikram, who plays a man whose wife is abducted by a Ravan-like character in the Hindi version of the film, says of the director.
In the Tamil version, which is also dubbed into Telugu, Vikram's role is reversed and he plays the bad guy.
The three versions of the film are being released worldwide on Friday, playing on more than 2,200 screens. In North America, the Telugu version will be shown on more than 30 screens while the Tamil and Hindi versions will be on at least 100 screens.
Before he worked with Ratnam, Vikram said his thought in his college days was something like this: "'If I do a film with Mani Ratnam I can retire.'"
Ratnam, whose films have been shown at many film festivals including Toronto in the Masters section, is getting a special award at the Venice International Film Festival.
Vikram joined his Raavan co-stars Abhishek Bachchan, wife Aishwarya Rai Bachchan and Mani Ratnam recently in a tele-conference organised by the film's distributor in India, Dubai and America.
There were many light-hearted moments in the conference. When a journalist asked Abhishek and Aishwarya if they rate each other's performance, he replied "let the critics do the work."
At one point in the conference when he was teasing Aishwarya, she said in Tamil, poda (get lost). "You poda," he shot back.
Ratnam -- who has worked with Shah Rukh Khan (Dil Se), Abhishek (3 films) and a number of leading Tamil artists including Madhavan and Revathy -- says with proper casting, 50 percent of his job is done.
He also looks, while casting, the work done by a particular artist in the recent past and offers the artist "drastically different" roles. He has also created career-defining roles for many would-be stars including Anil Kapoor in the 1983 Kannada film Pallav Anu Pallavi.
"What you learn from Mani Ratnam, you carry it with you all your life," Kapoor says.
Abhishek praises the film-maker for giving him career-defining roles. "You could be a fool to say 'No' when he comes with a film like Raavan," he adds.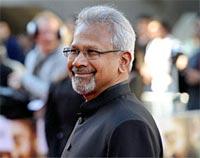 "I used to call him Mani Sir," Aishwarya says recalling her debut film Iruvar (Tamil) which Ratnam directed in 1997. "By the time we were working together on Guru (about 9 years later), he said, 'Call me Mani'."
On a lighter note, she said the first word she spoke at the Iruvar shooting was 'pesare' (speaking). "I've not stopped speaking since then."
She also said that Ratnam not only projects his artists making sure they give solid performances, he is also concerned for them when they are doing difficult physical scenes. He makes sure all the safety nets are in place, she adds.
Working in a Tamil film after many years was not easy on her, she confessed, especially the Hindi version of Raavan was often shot first, immediately followed by Tamil. She would get confused at times and look at Ratnam with what-have-I-got-myself-into kind of look, only to be amused by a similar expression on his face.
Though in the early years of his career, Ratnam dubbed films like Bombay from Tamil into Hindi, and Raavanan from Tamil into Telugu, he doesn't really like dubbing. Never mind how good the dubbing is, "it will still remain a dubbed film," he says. "the dialogue (in the dubbed language) is written to suit the lips."
Apart from the Tamil version of Raavan, she is also acting in Enthiran, a big budget film starring Rajnikanth, which is directed by Shankar who cast her in Jeans around the time Iruvar was shot.
Because of her work in Raavanan, she said she got more confidence working in a Tamil film after more than 15 years. Her confidence was boosted as the Raavanan shoot continued. Now, instead of asking for the scene details the previous day, she would now wait for the day of the shoot. "Now I jump into the deep end and swim," she continues.
Working with Ratnam was also "frustrating," she said with a chuckle. "At the end of each scene, you feel so fulfilled," she explained. "You feel you have done good work. It spoils you because you want more. He whets your appetite, he fuels the hunger (for a good performance).
She is amazed at the commitment the cast and crew has for Mani Ratnam. Everyone works extra hard for him never mind how tough the terrain is or how difficult the weather is because they have faith in his vision, she says.
So when someone asks her who is the hero in the film, Abhishek or Vikram, she says: "the entire unit is the hero of the film."
Read our Raavan reviews: Raja Sen gives it 2 stars.
New Yorker Aseem Chhabra gives it 4!