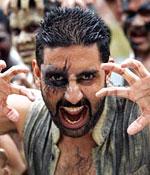 Had Abhishek Bachchan made Raavan, he might have been tempted to call it Raavayan.
The actor suggested an alternative title to the Mani Ratnam film, which released June 18 -- his newest for the famed director following Yuva and Guru -- at a teleconference with journalists in five cities a week ago.
Abhishek and his wife Aishwarya Rai were discussing their new film together in Mumbai at the video tele-presence session via Cisco organised by distributor Reliance while another cast member Vikram and director Mani Ratnam took questions from Chennai.
Over 50 journalists in New York, Dubai, New Delhi, Mumbai and Chennai participated in the three-hour long conference.
Abhishek was reacting to questions about how much the characters in the new film in which he plays an abductor of a married woman are culled from the epic, Ramayan. The film is not (really) about Ram, he said, adding it is the story mostly of a Ravan-like character called Beera Munda in the film.
How does his new role compare in its complexities compared to his work in films like Guru? Take all those films and multiply them by hundred, he said, adding the extraordinary talent Ratnam has in drawing out the best in artists is at play in the new film too.
Even as he spoke about his work, he said in Guru, "Aishwarya and Mithunda (Chakraborty) did not get the due that they deserved." And he went on to assert that Aishwarya has given a stronger performance in the new film. "She has blown the Guru performance out of the water," he added.
When he saw the completed version of Yuva many years ago, Abhishek continued, he was stunned to see his performance. He wondered: 'Really? I can do it?'
Though Yuva, which released six years ago, was not a commercial success, it proved that Abhishek had huge potential. He knew at once that Ratnam "had given me a big boost."
And then came Guru in 2007 which proved once and for all that Abhishek was not afraid to go where his father Amitabh Bachchan had gone, and become a star actor on his own. And now with Raavan, he thinks, Ratnam has coaxed even more commendable performance from him. He thought he was extraordinarily lucky to have worked in three films with Ratnam.
"I know of actors who have spent their entire career saying, 'We want to work with Mani Ratnam'," he said. "Mani knows me better as an actor than I know myself."
Raavan follows Guru, an unqualified hit for Ratnam, and the biggest success of his career going back to the early 1990s.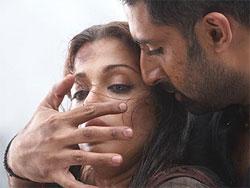 One of the most awaited films of 2010, Raavan, which was shot in Hindi and Tamil, and has been dubbed into Telugu, unveils even as Raajneeti enters the third week having grossed $21 million in India in two weeks, and $4 million abroad, $1.3 million out of that coming from the US, according to distributor UTV.
The Hindi film to beat remains My Name Is Khan, which has grossed over $42 million worldwide, according to distributor Fox. Released two weeks ago in France, Spain and Belgium, it added over $600,000 to the kitty.
Responding to a question at the tele-conference if he has changed the character of Ravan and made him something of a hero, Mani Ratnam said the character essayed by Abhishek is not different from the one depicted in the scriptures.
But the film tries to find out what made him at once brilliant and evil. Abhishek said, "Mani is asking what is right, what is wrong and who is to decide, and should we be judging anyone?" The film warns the viewers against judging anyone before looking at the person from different perspectives, he added.
The work in Raavan was physically demanding, Abhishek admitted, adding that there were evenings he returned to his room with bruises and wondering, "Is it going to rain tomorrow?" Many times he felt like a schoolboy who wonders if the classes would be cancelled because of the rain.
But the next morning when he woke up and saw Ratnam walking briskly across the rough terrain towards the shooting location, Abhishek would forget all about the hard physical work that awaited.
But he was more 'petrified" doing the emotional scenes, he said chuckling, adding that he was not so worried about doing the action scenes however tough they were. "That means there was no dialogue (in the action scenes)," he added. But soon he said, he could not escape Ratnam's demands even after the film-maker had okayed an action scene, calling it fantastic.
"He would then look at the artists and ask, 'Can we try doing it another way?'," Abhishek added laughing heartily.
Five years ago Abhishek had said in an interview in New York that while working on Bluffmaster, his performance had gained considerably in that film because he was cast with brilliant actors -- Nana Patekar and Riteish Deshmukh.
So what was it like working with Vikram, one of the most accomplished actors in the South who plays the husband of the abducted woman in the Hindi version of the film? Did he discuss his work in Raavan with Vikram?
"I am a team player," Abhishek said, adding he will take counsel from anyone knowledgeable in the interest of his own performance and in the interest of the film.
"I look up to him," he said of Vikram, a veteran of Ratnam's Tamil films. "I would have been very foolish if I did not seek out his advice."
There were occasions when Vikram would suggest to Abhishek how to interpret a specific scene. "He would be behind the camera making gestures to me," Abhishek said. You have a great actor who shares his insights with others, he continued. "I took his guidance."
Read our Raavan reviews: Raja Sen gives it 2 stars.
New Yorker Aseem Chhabra gives it 4!