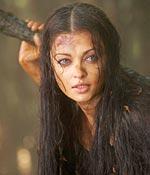 Notice those bruises on Ash's face in Mani Ratnam's fine film,
Raavan
?
If you watch the movie closely, you notice they move around that incredibly beautiful face in some scenes; occasionally, they even disappear.
Directors, editors, producers... a lot of people see a film before it finally reaches the audience. Huge amounts of money is spent to ensure the final product is of the best possible quality.
Yet it's not uncommon for even our most popular films to be riddled with little mistakes: Fuddled facts, costume oversights, prop misplacements, technology hiccups, issues of chronology. The possibilities are endless.
Of course, many of these missteps can be forgiven. Making a film is a monumental task, after all. But what about errors so bizarre that all you can do is wonder agape?
How about Abhishek Bachchan's fluctuating facial hair in Dhai Akshar Prem Ke? In one short span in the movie, Abhishek's character goes from stubbly, to clean shaven, to fully bearded. And never once visits a wash room with a razor in hand!
Or how about the last sequence in Sanjay Leela Bhansali's Hum Dil De Chuke Sanam where an entire country is passed off as another. The scene was supposed to be filmed in Italy but for whatever reason it was shot on the famous Szechenyi Chain Bridge above the Danube, which is in certainly not in Italy. If you must know, the bridge is located in Hungary.
And what about the glaring oversight in Karan Johar's Kabhi Khushi Kabhie Gham? It seems the filmmaker forgot to take into account Hrithik Roshan's two thumbs when making the film because the kid that plays young Hrithik in the film is shown having 10 fingers.
Point is, the mistakes are everywhere. You just have to look hard to find them.
Have you spotted any Bollywood bloopers recently?
Tell us about your favourite and funniest!. Keep the Bollywood bloopers coming guys!