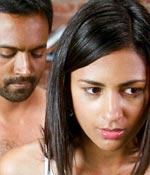 Preeti Arora reviews Mr Singh Mrs Mehta.
Infidelity on the part of a spouse is still a no-no for our audiences. The cheating spouse needs to be shown the error of his ways so that life can return to normal.
In this scenario debut director Pravesh Bhardwaj's film Mr Singh Mrs Mehta comes as a bit of a surprise. Despite its many flaws the film steers clear from making any moral judgements.  
Mr Singh and Mrs Mehta (Naved Aslam, Lucy Hassan) have drifted into an adulterous relationship. They aren't having any major issues with their respective spouses. It just seems to be a way of life for them. But these two aren't our protagonists. Prashant Narayanan (Ashwin) and Aruna Shields (Neera) realise something isn't quite right about their marriages. As they set out to confirm their suspicions they end up bumping into each other. And take the easy way out to assuage their feelings of pain and loneliness. 
So far so good. But unfortunately the film moves into a limbo at this point. Neera and Ashwin continue their illicit liaisons seemingly without any guilt. Ashwin is a painter who believes he hasn't even begun to explore his own potential. Neera becomes his inspiration and suddenly Ashwin works at a furious pace. Once he convinces Neera to pose for him, one pretty much knows the direction in which the film will move.  
The refreshing bit about Mr Singh Mrs Mehta is the absence of guilt. Ashwin and Neera have all the human frailties, ponder about their spouses even as they are engrossed in each other and keep up the façade of being happily married in their daily lives. At this point all four actors lose their credibility. The lack of complexity in their characters makes them appear one-dimensional. 
The film is about two Indian couples living in London and ideally should have been shot as a bi-lingual or in English. While the two men are comfortable with Hindi both the actresses tend to stumble. Especially Aruna, who muffs up her expression solely in an effort to get the nuances of the Hindi language right. Ditto for Lucy Hassan. She delivers her dialogues in a flat monotone. 
Where the director has scored is his ability to capture the intimacy shared by Ashwin and Neera. These two have their secret trysts at Ashwin's studio and Neera moves around semi-nude unselfconsciously. But the nudity has been cleverly masked with blurs so that the film could get past our ever vigilant censors. Ashwin being an artist isn't too focused on his biceps and manages his love scenes in an adroit and charming manner.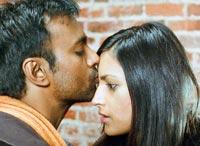 Where the film really suffers and unfortunately so does the audience is the pace. Motifs of art house cinema -- the cigarette -- being rolled unhurriedly, the smoke curling into the air have been repeated through the film and it gets tedious to watch.  
But there are some redeeming features to the film too. Apparently MSMM has been shot in Wales and the locations are interesting. Prashant Narayan delivers an effective performance as the timid husband who is aware of his wife's infidelities but is unable to confront her. Instead of laughing at him, the audience feels a tremendous empathy. This versatile actor has tremendous potential and MSMM will work wonders for his career prospects irrespective of the film's fate at the box office.
And yes with the number of onscreen kissing sequences Emraan Hashmi might just stand to lose his title in the near future. 
The music (Shujaat Hussain Khan) and lyrics (Amitabh Varma) are commendable.   
If extra-marital liaisons are your preferred choice of film viewing then make sure you watch this.
Rediff Rating: