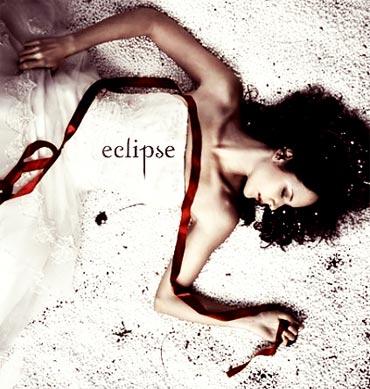 It's still almost two weeks away, but already advance ticket sales have all but ensured its success.
It's Twilight: Eclipse, the third film adapted from Stephenie Meyer's four-book Twilight fiction saga, and it's likely to be the year's biggest blockbuster.
Looking at Twilight today -- the first two films have raked in over $1 billion at the box office, and Meyer was the top-selling author in 2008 and 2009 -- it's hard to believe the phenomena started so humbly.
Inspired by a vivid dream in 2003, Meyer, who had never written so much as a short story, wrote her first novel Twilight, a tale of forbidden human-vampire love between Bella Swan (played in the films by Kristen Stewart) and bloodsucker Edward Cullen (Robert Pattinson), in just three months.
The Daily Telegraph, a UK daily newspaper, recently sat down with cast-members of the third movie, to get their insiders' take on the Twilight phenomena.
'I think the success of the Twilight movies, not just the books, comes down to Stephenie Meyer,' Bryce Dallas Howard, daughter of director Ron Howard, said in the article.
She's joining the Twilight cast for Eclipse, wherein she plays the vampire Victoria. 'You really see the world through Bella's eyes, and you fall in love with Edward, and then get your heart broken, and fall in love with (Jacob Black, a werewolf played by Taylor Lautner), and then you're in danger.'
It's Howard whose character moves along the plot of Eclipse. Victoria's soulmate was killed by Edward at the conclusion of Twilight; now she's out for revenge, and hopes to kill Bella so Edward can understand her pain.
In protecting Bella, vampires and werewolves -- two groups notoriously at odds with one another -- must work together, forcing brooding Edward and muscle-bound Jacob to work hand-in-hand.
It's also darker and perhaps more racier than previous the previous Twilight instalments.
'This film is definitely a bit darker than the others,' 20-year-old Kristen Stewart told The Telegraph. 'Bella's conflicts intensify - she must choose between Edward and Jacob - and the climax of the movie is more violent than anything we have dealt with before. Also, it feels as though the characters can handle a little bit more of a mature storyline, because they are older.'
Eclipse also represents the introduction of English director David Slade into the series. Appropriately, Slade's resume features the adaptation of vampire-filled graphic novel, 30 Days of Night.
Soon, the cast begins work on the saga's final chapter, Breaking Dawn, which will be released as two separate movies, with Bill Condon (Dreamgirls) as director.