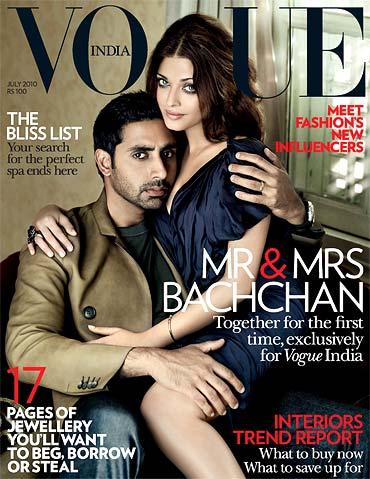 The July issue of Vogue India features Aishwarya and Abhishek Bachchan together on the magazine's cover for the first time.
In the cover shot, the couple look hot and sensuous, while inside they open up about marriage and relationships.
As a piece of advice to couples about to get married, Ash says, "Keep the faith. Believe in it, heart, mind and soul. The body will follow anyway! Be brutally frank with yourself. You are your own best friend. Experience everything for real, and you will cherish it forever."
Adding to this, Abhishek said, "Everything you think marriage is going to be, it's all that and more. Don't believe the haters. People have joked about marriage for so long that it's come to stick. But it's great fun. Go for it. Just be 500 per cent sure of the person. Don't do it if you have even an iota of doubt, if you're not completely convinced."