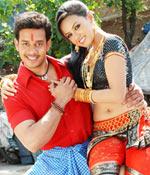 It would seem that the Rajnikanth and Vijay school of stardom has found another willing pupil: actor Bharath. Following a slew of good movies with respectable acting skills, it looks like the actor has taken to the star path in earnest through V K Media's Thambikku Indha Ooru (the title a spin off the yesteryear Rajnikanth blockbuster), directed by Badri.
If the previous outings of swashbuckling stunts and fiery dialogues hadn't already established that Bharath's changed star status, the Chinna Thalapathi now takes to the route in full earnest. Supposedly he's Akil, the son of Rajasekhar (Nizhalgal Ravi), running Sakunthala Food Palace in Singapore but he's simply God come to save his fellow men and women, no matter what their problem. Accordingly, this very ordinary young man shakes his hips, bashes men, waggles fingers and utters corny dialogues even J K Ritheeish would think twice before giving vent to. Naturally, girls fall for him, he sings "punch" songs set to the lacklustre tunes of Dharan, fights off goons and refuses the love of a beautiful girl Priya (Madalasa Sharma), because he's in love with someone else -- Divya (Sana Khan).
Cue for the silliest celluloid flashback in recent times, where Akil dons a Sikh costume and tries to ape Akshay Kumar, plays a cat-and-mouse game that makes you yawn and eventually wins the heart of Divya, a National Squash champion. Of course, life and love are never that easy. In a scene straight out of a melodramatic 60s movie, he suddenly understands that Rajasekhar is not his biological father, leading to much cheesiness and more punch dialogues. The story promptly moves to Tamil Nadu, following the pitiful leads Rajasekhar gives Akil, and leads to fresh complications: good dada Kumaraswamy (Prabhu looking dignified in a black outfit), and bad dada Thirumalai (Ranjith, after a break).
Insane plot twists, ridiculous situations and completely illogical sequences follow, leading to an end that can't come sooner. The only consolation is a good deal of Vivek and M S Bhaskar's comic sections which alleviate boredom.
Throughout the proceedings, Saalai Sahadevan's camera tries valiantly to capture some freshness -- only succeeding in showing us glimpses of Bharath's soles, MGR's vibrant cut-outs or Sana Khan jigging around.
The heroine is caked in greasepaint, wears cute outfits and sings duets (Yaaradi is worth a listen); Prabhu, O A K Sundar and Ranjith growl menacing dialogues while Ravi stands around, pathetic.
It's left to Bharath to produce inadvertent comic relief, even as he thrashes goons left and right. Why an otherwise intelligent actor would be enamoured of the trappings of stardom and fall prey to silly scripts, punch dialogues and ape other stars in anyone's guess.
This particular wannabe star puts on a no-show. Give it a miss.
Rediff Rating: