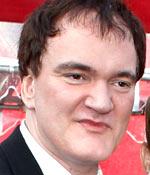 A man is suing Quentin Tarantino claiming that the director ripped-off his concept to create Kill Bill.
In a lawsuit on Tuesday, Dannez Hunter claims that he sent in a treatment to Miramax back in 1999, about a fictional character named Ren, which was turned into Kill Bill, reports TMZ.
Essentially, the suit alleges that Miramax, Harvey Weinstein and Tarantino stole his idea, including the "concept/character name Ren."
He even specifically mentions 'Ren' witnessing his mother's gruesome murder, knife in the gut and all.
Hunter, who is from the "inner city," also alleges that he applied for a job at Miramax but "was never given a return phone call, as numerous similar situated less qualified Jewish and White people were bestowed job after job after job."
Hunter wants over a million dollars in payments.