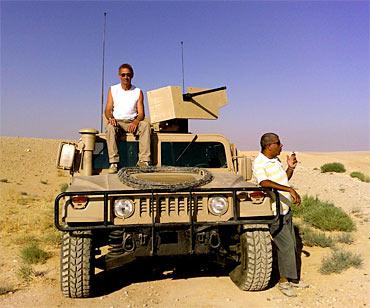 This year's Best Picture Oscar
winner
The Hurt Locker
's victory came as no surprise to some big Bollywood names, specifically, Abbas Tyrewala, John Abraham and Madhu Mantena.
David Bryan, Supervising Art Director of The Hurt Locker who was widely praised for his life like replication of the battle scarred streets of Iraq in Jordan, is the Production Designer for Abbas Tyrewala's next venture, starring John Abraham, now under post-production.
The really interesting story however, is that David's only managed to convince Abbas to join his project as a Production Designer after showing Abbas footage from The Hurt Locker and how he'd recreated the streets of Iraq in the award winning film.
It may be recalled that during the shooting of Abbas's film in London, the production had managed to block off traffic completely on Tower Bridge for three nights and had shot several scenes with even boat traffic on the Thames being restricted!
"We wanted to portray the real London that is rarely seen, it's an amazing city with very diverse locations. In particular we were looking for a real iconic Studio Apartment for our lead actor John Abraham," David said.
He further added that, "Working with a Bollywood crew was a great experience, much more than on a similar British film."
Expectations are already high from Abbas's new film, coming as it does on the heels of the scripting and debut directorial magic that he displayed in the smash hit Jaane Tu Ya Jaane Na.
Now with a key member of the history making Best Picture Oscar winner responsible for creating the look and feel of his film, the expectations are only bound to grow.
Image: David Bryan (seated) on location for The Hurt Locker.