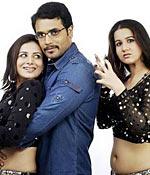 Sisters Pooja and Radhika Gandhi's first Kannada film together, Shriharikathe, is a comedy with a message.
The film narrated in a 'harikatha' style is about Shrihari (Sri Murali), a simple-living, high-thinking business honcho who gets married to Prakruti (Radhika).
Though the lady is head-over-heels in love with Hari, her research work is her top priority. To avoid distractions, she asks Hari to wait for six months before consummating the marriage. Impressed with her dedication and honesty, the supportive husband agrees. It is love and not desire that make a marriage a success, he feels.
All izz well until Prakruti seeks more time for her research work, and even rejects Hari's idea of accompanying her on her study tour to Singapore.
At this point, an otherwise sensible and upright Hari decides to seek solace elsewhere as suggested by his pal Ram (Naveen Krishna). After getting gyaan from Ram on how women tend to take doting and faithful husbands for granted and how he, as a man, should develop some bad qualities. Hence our hero decides to seek the company of another woman.
Enter Pooja Gandhi, who plays a model. After seeking monetary help from Hari, she decides to return the favour by being the companion he was looking for. Post a steamy beach song and a series of events, our Hari realises his hurried folly. But is it too late? Will Pooja succeed in destroying Hari's relationship with Prakruti?
Though Shriharikathe rests on a cliche formula, it is backed by convincing performances. The film is surely a good relaunch for Naveen and Radhika. Naveen's funny side is something the industry can cash on. He has also sung and written a song for the movie.
Radhika brings forth the career vs marriage turmoil faced by today's women well. Though this is her film all the way, Pooja manages to hold her own. Shriharikathe presents Pooja with an opportunity to break from her girl-next-door image. She has been given a glamorous look in the film. 
As for Murali, he does a good job as a guilty husband. Though he slacks at a few places, he pulls off comedy well. The supporting cast which includes Srinivas Murthy, Padmaja Rao, Sihi Kahi Chandru, Geetha and Achyuta has little to do.
Songs are integral to the story and come with apt lyrics. The beach house makes a perfect setting for the songs as well as the story. The lighting department has done a good job with the songs. Background music is suitable. Bits of popular songs from other films have been used to add punch to certain comic sequences. Some dialogues, especially Naveen's like "Mistakes are like alcohol, you get used to them after a while" make you laugh easily.
While the first half moves quickly, the movie stretches towards the end. The story is preachy but in a comical way. A scene where Pooja and Radhika hug each other despite being the 'other woman' and wife is however hard to digest. The onscreen sisterly act could have been done away with too.
Watch Shriharikathe if you can ignore some of the 'machismo' dialogues that reflect gender stereo types in our society.
Rediff Rating: