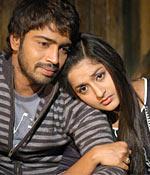 The Telugu film, Aakasa Ramanna, directed by Ashok G talks about the role of karma in one's life. The genre the director adopts is a suspense thriller.
The protagonists Teja (Rajiv Kanakala), Jay (Sivaji) and Allari Naresh are embroiled in an accident. There are other characters too involved in this which includes Venu Madhav. Tara (Meera Jasmine) and Isha are the two women in the story. Isha is the common thread linking the three main characters.
The screenplay moves back and forth around this accident. The first half starts off as a whodunit initially and then the story builds up in a satisfactory fashion. It however, fails to maintain the momentum in the second half and peters off.
The rather sluggish pace (more so in the second half) works against the film. The dialogues at times are gross and vulgar. They could have avoided the item number and the scene involving the so-called sanyasi' in the beginning as well. In fact, it takes quite a few minutes to figure out what the film is all about!
The male actors Allari Naresh, Sivaji and Rajiv Kanakala have done tolerable jobs. There's nothing really much for them to act. One is disappointed that National Award-winning Meera Jasmine accepted such a role where she has nothing much to do. Why should such a talented actor stoop down to do such itsy-bitsy 'nonsensical' roles? Venu Madhav's role is quite 'unpleasant' even though it is supposed to infuse humour.
Ultimately the concept of the film is good, but the execution leaves much to be desired. Though the director attempts a slightly different narrative technique in the screenplay, it lacks the tautness to keep the thrill alive.
On the whole there's nothing much to be looked forward to in Aakasa Ramanna except its slightly new narrative style.
Rediff Rating: