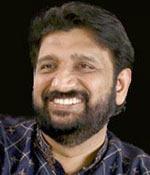 Bengaluru Ratna, Gayana Mantrika, Vishwamanava, Gana Gandharva, Kannada Saarathi...that's Shashidhar Kote for you.
The Kannada singer talks to Shruti Indira Lakshminarayana about his journey from Dakshina Kannada to Bangalore and being called 'Junior Yesudas.'
How did music happen to you?
I was exposed to music and Yakshagana at a very young age. As years passed, I realised that I wanted to be a singer. With my father Kote Vasanthkumar's support I came to Bangalore to live my dreams.
Did you give up your career as a teacher to become a singer?
Yes, I used to teach literature at Mangalore University. But lecturing to a large class meant straining my voice. I couldn't afford to do that as I wanted to pursue music. It is my lifeblood. In fact, when I was on a past-life regression reality show recently, I saw that even in my previous birth, I was a singer. Apparently I was a singer in the Mysore maharaja's court and had been honoured by him.
Did you go through formal training?
After coming to Bangalore, I took classical music training from Vid Gurudutt. Before that, I had trained with Satyabhame and Gopalkrishna Iyer. However, it is Balamuralikrishna and Yesudas who have inspired me a lot. Listening to them has been an education in itself.
Have you interacted with your idols?
I met Yesudas 15 years ago. He had liked my voice. I'm yet to meet Balamurali. S P Balasubramanyam is also one of my favourites and I've interacted with him when I went as a judge on Yede Tumbi Haduvenu.
How does being called 'Junior Yesudas' feel?
God has gifted me with a good voice, but I'm no match for a legend like him. People think I resemble him because I sport a beard too and sing a lot of his songs. But even though the songs are his, the style is mine.
What is Kote style?
Be it Kannada, Telugu, Tamil, Malayalam or Hindi, when I sing a song, I make it mine. I place utmost importance on presentation. I judge the audience and present songs accordingly. There is always a variety in my programmes -- from film hits to folk songs and classical pieces. You'll find a Vaatapi, Hendati Obbalu and Kuladalli Kilyavudo, all in one programme. I try and make my presentation lively. Also, people feel my pronunciations are clear.
Your 'Geetha Chitra' is also unique...
'Geetha Chitra' is the coming together of music and painting. Lending support to this concept is B K S Verma. He paints the subject of the song I sing. Take for instance Vaatapi. He'll paint a picture of Ganesha as I am singing. We are a popular pair in Bangalore, Chennai and Mumbai.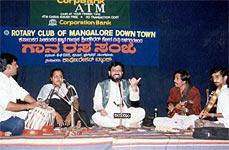 You have received several accolades. Which would you rate as your best?
I have given over 4,000 concerts. The compliments I've got for them are the true awards. I have had elders falling at my feet. Another unforgettable incident is that of a beggar giving me the alms he had collected. He was that impressed with the programme. It is the love of the people that matters at the end of the day.
Are you saying awards and titles mean nothing to you?
Awards are bought these days. If anything, awards should come looking for you. But recognition pleases me. It encourages me to perform better.
While you have given many stage shows, you are not all that visible in the film circles. Why?
I have lent my voice to Shivaleele and Aiyappa. But today's music directors want singers to approach them and I have too much self respect for that. Also, I am busy and don't consider playback singing my ultimate destination. But Kannada youngsters should be given a chance. Why bring Hindi singers when you have so much talent here? Even singers like S P Balasubramanyam have not been utilised properly. How long will Hindi singers remain a trend? Even their Kannada numbers sound so Hindi!
What do you think of the current film music scenario?
Most songs are not backed by good lyrics. Rhythm is ruling over melody. Everyone wants an instant formula. In this bid, capable music directors, singers and lyricists are being ignored. We are not coming out with evergreen songs like Ellelu Sangeethave or Kuladalli Kilyavodo any longer. In comparison, the Malayalam industry manages to churn out tasteful music even now.
What is your take on fusion music?
I see it more as confusion rather than fusion! Half-baked knowledge on part of musicians is responsible for this state.
And what about reality shows?
The SMS-voting system is playing spoil sport. The judges' words should be final. I have judged shows like Little Star Singer, Sangeetha Lahari, Hadondu Haduvenu and Sangeetha Sambrahma and I can say that what we need is opportunity and not competition, more so in the case of children. It would also do good if the channels popularised folk and classical music, not just film songs through these shows.
Speaking of young talent, both you and your wife are artistes. Is your son Saagar also aspiring to be one?
My wife Seetha is a dancer and a television actor. But that doesn't mean we expect our son to tread the same path. He has shown interest in music, but he seems more inclined towards direction. As parents, our duty is to support him. All that I tell him is to learn and respect his language -- Kannada.
Any word of advice for aspiring musicians?
First of all they should understand that just by singing on S P Balasubramanyam's show they don't become SPBs! There is no short cut to success. Dedication and a good teacher are the key words. They should be well-informed about musical notes and grammar, and make music that touches people. Money will follow.
What are your other interests?
I act in television serials. I also endorse products occasionally. Going out with my family and watching movies and cricket with them keep me relaxed. I also follow news keenly. Listening to songs set to my favourite ragas Kalyani, Anandha Bhairavi, Hindola, Karaharapriya and Abhogi also keep me going.
What's the flipside of being an artiste?
Any artiste's life is complex and unpredictable. There is too much tension and running around to do. For a singer, maintaining his/her voice is a task in itself. But all the effort seems worth it when you are on stage.
What's next from your side?
There are a few music albums. One will be a collection of Dasara padas and another of devotional songs. I also want to make an album of Bharatanatyam dance numbers. My big dream is to start a music and dance academy along with my wife and brother.