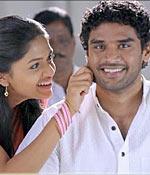 "A surfeit of love," promises the tagline of Chozha Creations' Tamil movie, Yadhumagi, directed by R Balakumar. But what it does bring you, eventually, is a straggling comedy of errors -- most of them unintentional.
The pity of it is that the movie starts off in a very convincing fashion.
There's Anand (newcomer Sachin), an ad photographer who has girls swooning over him at every opportunity, but has no time for them. There's also Annalakshmi (Sunaina), a kolam-drawing, TV-watching traditional young girl whose educational qualifications don't stretch beyond twelfth grade.
He lives in Mandaveli; she in Saligramam; he's happy-go-lucky, taking life as it comes; she's serious, from the town of Kumbakonam, and has little idea of city-life.
But when the two meet -- its love at first sight. For the girl!
That's quite a refreshing turn from the usual, when it's the guy who usually falls flat for the girl's charms. Here, though, Anand is blissfully unaware of the tumult he's caused in innocent Annam's heart.
Everything he does, every gesture, or glance thrills her as she hovers around the edge of his vision, never really visible. An ad-shoot goes hilariously wrong and Annam gets her first taste of city life, hotels and eating-habits -- but promptly endures the censure of her strict father.
Matters take a turn when one of Anand's photos accidentally ends up in a lingerie ad -- featuring Annam's face.
So far, so good. By rights now, the story should have tied you up in knots at what might happen next, considering the well-established characters. Instead, the director gets into a wishy-washy mess of melodrama, suicide attempts that go nowhere, impassioned speeches that make no impact and an end that leaves you yawning.
The casting is near-perfect, though. Debutant Sachin might look a bit unsure of himself in the dance sequences, but his laid-back attitude and jokes hit the right note, inducing genuine laughter.
Sunaina, for a wonder, looks perfect as the demure, dreamy girl who has no town polish, and plays her part very well.
The best part is easily Sachin's dialogues; neither cheesy nor over-the-top in the beginning -- until the second half, of course.
What goes truly haywire, in these days of marvelous technological strides, is the terrible editing. There's a scene that shows Sunaina eagerly thanking Sachin for something but no one has no idea for what -- until an idol appears mysteriously out of nowhere, two scenes later. The sequences are jerky, unresolved. Mohammed Nazir's camera-work is blurred at some points, making you wonder what went wrong.
James Vasanthan's background score could have been underplayed at times -- but numbers like Yaaradhu are worth a listen.
If the director had kept up his original, laudable premise of two characters from totally different background falling in love against all odds, this one would have been a very classy love story. As it is, only the first half works.
Rediff Rating: