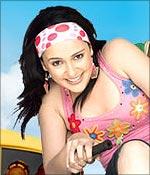 If Raj Thackeray's Maharashtra Navnirman Sena has its way, foreign actresses having their heart set on acting in Bollywood will have to pack their bags very soon.
The Mumbai political party launched a campaign against using foreign actresses in Bollywood last week after it raided the set of Abhishek Bachchan's latest movie, Crooked, a Telegraph.co.uk report said.
The party demanded to see the work permits of 136 foreign actors and actresses on the set, Telegraph.co.uk report added.
Some of the actresses accused of stealing jobs from local girls include Hazel Crowney, a former model from Kent. She made her debut opposite Ruslaan Mumtaaz [son of actress Anjana Mumtaaz] in 2007 with MP3 -- Mera Pehla Pehla Pyaar.
'Why can't our Indian actors dance with locals? We will insist that only local junior artists should be employed', the Telegraph.co.uk cited Shalini Thackeray, an MNS leader, as saying.
'We will check whether they have valid permits. Many times, foreigners come here on tourist visas, but take up work in Bollywood,' she added.
Rakhi Sawant joined the fray saying that 'Because of these foreigners, our Indian girls remain jobless. These white girls are like lollipops that only last for two days,' the report cited her as saying.
But there are others like director Jag Mundra who defended the decision to employ foreign women in Hindi movies as they are cost effective. Plus, they're not as inhibited as Indian girls. 'The reason producers pick white girls is because a lot of them have better figures and are willing to expose them,' the report cited him as saying.
'If you need a bikini shot, not many Indian girls are willing to turn up in a string bikini. But most white girls will not have an issue with that. Titillation has been an important part of Bollywood,' he added.
There are still others like Vir Singhvi, one of India's leading commentators, who said that the issue is nothing more than a way of winning over Mumbai's women voters who have so far shunned the MNS.
'The MNS says [these dance scenes] are against Indian traditions, vulgar and cheap. They do this to get women's votes because women object to half-naked dancers, but it's not enough of an issue for women to change their minds,' he was cited as saying.