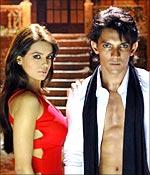 It took Vikram Bhatt six years after Raaz to scare us in 1920. He didn't take as long to bring us Shaapit -- The Cursed.
The film is scary alright, true to its genre, and will make you believe in curses, mythology, poltergeists, aathmas...
Following Bollywood's map for horror films, Shaapit is clearly defined into two parts -- the cause and the effect with, of course, the struggle associated with each.
Though our horror films have a story behind every mysterious happening, they also tend to have happy endings.
The story behind Shaapit goes like this:
Adiya Narayan (Aman) proposes marriage to Sweta Agarwal (Kaaya). As they happily drive home, Aman runs through a spirit in the middle of the road, leading to an accident. Kaaya is hospitalised.
Her parents rush to see their daughter and, seeing her engagement ring, reveal that their family has been plagued by a curse for 300-odd years. On peril of death, no girl in the family can even think about marriage -- which obviously means an actual engagement is a big no-no.
Aman and his friend Shubh turn to Prof Pashupati (Rahul Dev), who's a well-known researcher of paranormal activities, for help. The rest of the film is about their encounters with the spirit world, and how they save Kaaya from the curse.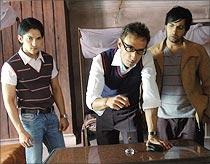 As far as the pros are concerned, Shaapit keeps you at the edge of your seat. Every scene is well woven. As a result, you understand the origin of the curse 300 years ago and why it has stretched to the present age and Kaaya's misery.
But the film isn't flawless either. There are few hiccups like cliched dialogues, predictable scenes and too many songs. The story, especially where it delves into the past, could have been tighter.
Aditya Narayan is natural in front of the camera. Shweta does her bit well, but doesn't really get a chance to showcase her talent. Rahul Dev plays his part with restraint. Newcomer Shubh Joshi is good.
Raju Rao's background score adds to the 'chill' factor. A thumbs up to Pravin Bhatt for his camerawork.
There are some genuinely frightening scenes that will make you jump off your seat. Those looking for chills won't be disappointed.
Rediff Rating: