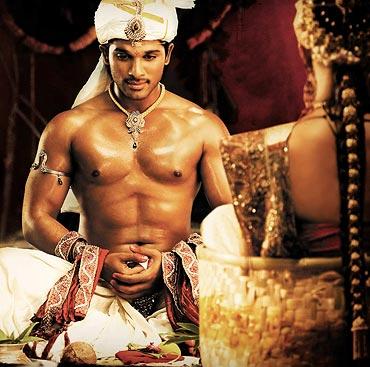 Allu Arjun's Varudu directed by Gunasekhar and produced by Danayya is keenly awaited as the director has not made any film for the last two years after Sainikudu.
It even took a while for the Telugu film to be titled Varudu.

Allu Arjun is a happy guy as his Arya 2 did reasonably well in Andhra Pradesh. The film even got a spectacular opening in Kerala.
Arjun is also acting in Krish Jagarlamudi's Vedam which is slated for this year. 

Tamil Actor Arya makes his debut in Varudu in a negative role. As for the heroine, a newcomer, her name will be revealed only on the day of the film's release. Even in the trailers, the heroine's face is not shown.
The director says the reason behind the secrecy is because the story demands it.
Gunasekhar generally writes strong scripts where the heroine too has a meaningful role.

As the title means bridegroom, the director seems to have shot a wedding at a specially designed set. About 100 real families are supposed to be acting in this marriage episode shot over many days.
The trailer shows a grand –looking bridegroom (Arjun) with elaborate head gear and exquisite jewellery normally worn by kings!

At the audio launch of Varudu, Arjun said Varudu is a Gunasekhar film which he has filled with soul. The superstar also mentioned that he would like to go in for an arranged marriage in real life too -- he has asked his parents to look for a girl, a fact confirmed by his father, Allu Arvind who was present at the function.

Veteran and noted lyricist (also the lyricist for Varudu) Veturi Sundara Ramamurthy said the story of the film is to do with a five-day wedding process. He also mentioned that there is a sentiment in the industry that if the hero gets injured in between the shoot, it proves lucky for the film as it becomes a super hit. Veturi garu hoped that would benefit Varudu as Arjun fractured his hand during the shoot.

Varudu's cast also include Suhasini Mani Rathnam, Brahmanandam, Ashish Vidyarthi Sayaji Shinde and Ahuti Prasad.
The crew consists of music director Manisharma, cinematographer RD Rajasekharan and editor Anthony.
Varudu is slated for release on March 31.