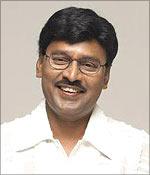 Tamil television's serials have always evolved around the ever-popular theme of family, relationships and the struggles faced by women.
Kalaignar TV has come up with yet another offering in the same genre, Vilakku Vacha Nerathilae.
The title, taken from director K Bhagyaraj's blockbuster Mundhanai Mudichu's title song, has achieved some sort of cult status, and has an instant recall among movie fans.

'This is the story of a woman's life, and the experiences of an ordinary family,' elaborates the serial's director, C Ranganathan.

The cast comprises of Sujitha, Sanjeev, Kathadi Ramamurthy, Kausik, Anuradha Krishnamurthy, Sivan Srinivasan and Bayilvan Ranganathan. Poet Vairamuthu has penned the lyrics, while Deva has come up with the music.

But the most intriguing part of this serial is the fact that its screenplay is being written by the master of screenplays himself, K Bhagyaraj.
The man took Tamil cinema by storm in the eighties, scripting, directing and starring in such classics like Mundhanai Mudichu, Chinna Veedu, Dhavani Kanavugal et al. His movies have often been upheld as perfect examples of entertainers combining both commercial values and a pertinent social message. 
K Bhagyaraj reveals his experiences to Pavithra Srinivasan. Exceprts:
What's Vilakku Vacha Nerathilae all about?

It's a story that will appeal to every family. The central character is a girl, Pavithra, and the events that happen in her life are almost mysterious, you might say. Her horoscope is a strange one. An astrologer predicts that if she is bitten by a poisonous insect or animal before the full moon, she will be forced to marry two men and her life will involve both relationships simultaneously. It is quite a complex situation and naturally, everyone is careful that such a thing must not happen.

But the girl is bitten before Pournami and since she knows how worried her parents will get, she conceals the whole event. Her father, however, gets wind of it, and is horrified. That is how the story develops.
The intrigue is heightened because the audience knows what is happening, but the family doesn't. What will they do about such a situation? Will everyone get to know about it? How will the family cope? Those are the themes that will be looked into.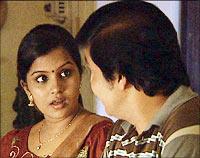 You've worked extensively in Tamil cinema and made quite a name for yourself. What is it like, working for a TV serial?

Writing for a movie is a swift exercise. You take an idea, develop it and it is over within a matter of weeks. But television is another world.
Here, you have to write, keeping in mind that the story might go on for ten years [laughs]. A movie can be written in the amount of time you spent for about 10 episodes of a serial. For TV, you have to draw out the writing, because it has to be telecast on a daily basis. It is a very different experience though. It has widened my expertise. It is quite a big undertaking.

As a script-writer, what are the differences you perceive, while writing for cinema and serials?

There is a certain style of writing, when it comes to cinema. You have to explain the plot, characters and ideas faster, with minimum time, interestingly and take the story on. There is very little time to do all that you want. For serials, it is slower. You have the time and freedom to explore situations, family and characters. You can take the time to develop it. I find that interesting.

When you can elaborate 5 or 6 scenes over 2 or 3 weeks, I call that quite a luxury, coming from the experience of writing for films [laughs].

What are your movie projects right now?

I am currently finishing up Siddhu Plus Two, Shantanu's movie. I am doing a few projects acting-wise as well. For example, there is a project with Dhanush.

How is your magazine going?

Quite well, although it is quite a job. After all, I don't offer free samples with every issue, like other magazines! [laughs].
Catch Vilakku Vacha Nerathilae on Kalaignar TV, Monday to Thursday at 8 PM.