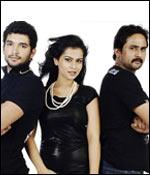 Kannada film Swayamvara directed by Ananthraju, starring Diganth, Sharmila Mandre and Srinagara Kitty, borrows from the Hindi film Mujhse Shaadi Karogi, which in turn was inspired by the English blockbuster Anger Management.
Like in the Hindi film, here too we have two heroes vying for one girl. It's love at first sight for Ajay (Kitty) when he sees Anu (Sharmila). While our man is pukka marriage material, it is only his anger that comes in the way. Ajay does manage to strike a positive impression on Anu, but the happiness is short lived, as he slaps her father in a fit of rage. This is just the beginning of a slew of incidents that land Ajay in Col Kenchappa's (Rangayana Raghu) black book.
Enter playboy Vijay (Diganth), who with his charms and 'helpful' nature mars Ajay's chances with Anu further. To avoid further trouble and make a good impression on Anu, he refrains from fighting with Vijay. At the end of the day, his anger management does pay off as he gets married to his love and that too with due support from Vijay, who is actually his childhood friend who came to teach him to be patient and test Ajay's love for Anu!
Though the film opens to a different plot, it does not stay away from the Mujhse... sequences for too long. A few scenes between Kitty and Diganth remind you of Shah Rukh Khan and Saif Ali Khan's dostana in Kal Ho Na Ho.
But there are many scenes which are indeed funny like the scenes between Kitty and Rangayana Raghu, and Diganth and Raghu. Anand aka 'Aerobics' Ekananda, the fitness guru of all the aunties in Kitty's locality is the other noticeable comic character. Sudha Belawadi, Umesh and Tennis Krishna also get to show their comic side.
Kitty gives a convincing performance, while Diganth, who sports a new look, was definitely better in Manasaare, his previous outing. Sharmila looks stylish as a fashion designer.
Ramesh Bhatt is a part of the cast and director Indrajeeth Lankesh makes a guest appearance.
Dialogues don't have much punch, and despite all the songs being original scores and big names like Yograj Bhatt, Nagendra Prasad, Sudhir Athawar, Arjun and Tushar Ranganath writing the lyrics, Manikanth Kadri's music is not catchy. The film also seems a tad too lengthy.
If you haven't seen the Hindi or English versions, Swayamvara is a weekend time-pass.
Rediff Rating: