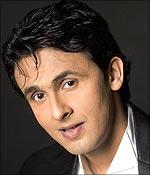 Sonu Niigaam narrowly escaped from getting his face burnt during a stage performance at Emperors Palace in Johannesburg.
The 36-year-old accidentally stepped into the path of one of the flamethrowers at the edge of the stage.
"What are you doing man? Do you want me to burn my face?," a clearly irritated Niigaam told the technicians from stage before continuing with his performance.
The firework was part of the show, which was a blazing display of colour and dance. The singer, known for hits like Suraj Hua Maddham, Deewana, Kal Ho Naa Ho, thrilled the audience by mixing English and Indian songs in a unique way to dance moves that included steps popularised by Michael Jackson and Shammi Kapoor.
Niigaam was also joined onstage by his young son Neevan for a cute rendition of the popular song All is Well and his Agam, who rendered a few golden oldies.
The singer also had a concert in Cape Town on Saturday and will do one more in Durban on Friday.