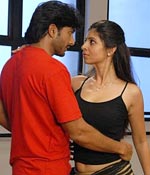 It's the season of love in Tamil these days, as one release after another proves.
The problem is, it is not an easy job to escape the clutches of formula and turning out an intriguing love-story when dozens of movies revolves round romance.
However, it would seem that Seventh Channel Productions' Tamil movie, Mundhinam Parthene (taken from the hit number in Vaaranam Ayiram), directed by Magizh Thirumeni, has managed to make an impact.
Even the opening credits, set to Thaman S's delightful Broadway-esque lilting tunes offer a novelty.
Essentially, this movie is a slice of an IT employee's life in Chennai; his dreams, aspirations, girls, work, interview and foreign visits. So you have IT professional Sanjay (Sanjay) pursuing his life and quite desperate to have a girlfriend, much to the light-hearted banter of his friends, Dinesh and Co.
In leisurely succession, he meets Pooja (Pooja), a fashionable, tittering coquette who jilts him unexpectedly; Aarthi (Ekta) a contradiction in every way to the traditional girl: she's an MBA who's now a dancer, lives alone in Chennai, and rumours are afloat that do her no good. Sanjay's own friends have numerous stories about her, but he feels the pull of her attraction at once.
In the meantime, there's another girl at his own concern, Anu (Lizna), who, with her striking looks, attracts him as well. Sanjay's life, though, is anything but easy. His own vision of his wife is a conglomerate of every Indian guy's dreams; she has to be modern, yet traditional; home-loving, yet out-going, madly in love with him -- the list goes on.
The girl of his dreams in reality is far removed from the vision he's painted for himself -- but his heart and brain send him different signals. His close coterie of friends, with their conflicting advice, doesn't help either -- partly because they're a confused lot, themselves.
It's a simple story on paper, but where Magizh Thirumeni has excelled is in his treatment. There are little nuggets of IT professionals going through life in Chennai, the guy who permanently mourns the fact he's still a virgin at 29, the girl who has a vicious tale to tell of everyone, the girl who's married a stinking rich NRI and comes back to rub that fact in everyone's faces... the list is sweet, intriguing and so very real that you can't help but smile with pleasure at the accurate portrayals.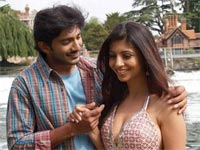 While the lead cast has done reasonably well, it's the secondary cast that our-performs them by a mile. The roly-poly guy who's always the butt of jokes and selects the name of Mr Piston for chat sessions, the dance classes that remind you of Shall We Dance, the friends who take each days as it comes, presentations, surveys et al, and the matter-of-fact girls are a joy to watch. They add character to what might otherwise be a flat portrayal.
The climax might prove disappointing to some, but it's the only way things happen in real life and as such, is very fitting.
The film itself moves at a pretty leisurely pace, taking its own sweet time to resolve issues, and lot of time is spent in voice-over narration, which is a minor irritant. The movie is undeniably up-market and is likely to appeal to multiplex audiences more but a common thread of life, love and marriage might bridge the gaps.
Antony's editing is carefully done, Vincent's camerawork is superb. The colours are bright, smooth and wash over you like a rainbow. Thaman's music, though appealing on its own, seems to halt the proceedings, especially in the second half. The best part, though, is that this is a pretty short movie in keeping with the times.
It might not be a slam-bang action movie with twists at every turn  but Mundhinam Parthene is fairly accurate, humorous portrayal of life in a certain section of the society, deftly told. Definitely worth a watch.
Rediff Rating: