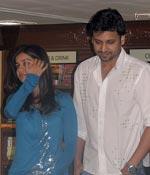 Films on sports or revolving around sport are rare in Telugu cinema. The last one being the Rajamouli-directed Sye. Cricket, the national game hasn't really made it into a Telugu film so far.
Now the award-winning team of producer Ram Mohan and Indraganti Mohankrishna have come out with a new untitled venture that will see the nation's obsession enter the Telugu silver screen shortly.
This new film is based on an English novel The Men Within (a Crossword Best Seller in 2007) by Harimohan Paruvu.
The announcement of the film starring Sumanth, Swati, Subbaraju and Shafi was made recently at the book launch of Harimohan's second novel.
The team which gave Ashta Chamma is exploring another new genre in Telugu and may give us something to look forward to.
"As a sports genre, it's new to Telugu cinema though films have been made on sports personalities like Ashwini. That's what attracted me to direct the film. Though I was working on other scripts, I took this up. I had read The Men Within long ago and didn't think I would get into it till Ram Mohan gave me a draft of the screenplay which I subsequently rewrote," Indraganti Mohankrishna said.
"As far as the main casting goes, we wanted familiar actors who would look new and unlike what they looked before like Subbaraju, Shafi, Sumanth and Swati. We still have to do the rest of the casting which is huge as there is a cricket team and their families. It's a challenge to do this film after Ashta Chamma," the director added.
For producer Ram Mohan, making the film was a bit of a dilemma as "The Men Within is my own brother's book, and a bestseller at that. I couldn't take a call on that. I asked people close to me in the film industry namely Suresh Babu and Gangaraju who felt it was film material. Mohan (Mohankrishna) said it would make terrific sense as a film and he re-wrote the screenplay. The book looks at education, sports, how children should be brought up and is a hugely inspiring story."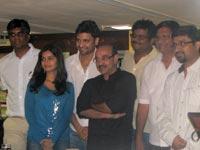 The film will be mounted with the best of technical and technological support. Shooting will begin in mid-April. The producer wants to release the film on September 5 (which is Teacher's Day and the day of release of Ashta Chamma three years back).
The author of the book Harimohan is quite excited that a movie is being made on his book. "It's wonderful and I am curious to see how it shapes up. I am pleased as it is in good hands."
Sumanth feels that "it's kind of new genre as far as Telugu films are concerned. The first of its kind and that is one of the reasons why I signed it. Very few books are adapted into Telugu films. I read the book and Indraganti gave it a spin by adding entertainment. It's completely out of the box yet commercial. It is about cricket, growing up, redemption. The book is motivational. I am looking forward to it."
For Swati, it was the friendship factor which was the main pull. "I liked the book overall. Mohan and Ram are friends. They are professionals and talented but don't take friendships for granted. I am doing it for them. It's a nice, sweet little role. Going to work in their film is like going back home from hostel. I am looking forward to it."