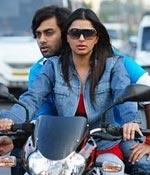 The first scene of the Telugu film, Yaagam -- the bizarre one of the hero Navdeep kissing a snake -- is an indication of what is in store for us.
Director Arun Prasad in this routine revenge tale puts in a potpourri to attract the masses -- enough of action, violence, some vulgar songs (where the hero smooches the heroine Kim Sharma).
The first half is filled with action with Danny (Navdeep) running, climbing, jumping from high-rise buildings and being chased in Thailand, and also romancing Sophie (Kim Sharma) in songs along with some foreign beauties.
Till the interval the story is rather unclear except that he works in a bar along with Sophie. As and when the story picks up a little steam to induce curiosity, there are these sensual songs to distract. Danny is shown getting nightmares of 'forthcoming murders' of three people -- a businessman Sanjay Arya (Rahul Dev), a Thai minister and a Thai airhostess.
It's only in the second half that one gets to know that he is on a mission to Thailand -- to vanquish the people who killed his lady love Nandini (Bhumika), an air hostess. Incidentally Danny is none other than DJ Santosh.
The plot gets a little clear in the second half but two other characters Ajay and Harshvardhan make their appearance as cops. The revenge mission continues in Thailand. But in the process the audience is left squirming and restless in the seat at the bland fare that is being dished out. The dialogues too don't add enough meat to this yet another tale of formula cinema.
Bhumika accepting this film (more a cameo) is rather surprising. No doubt she adds a breath of fresh air to the scenes she is in but the role is short and she deserves something better than this movie. She's the only saving grace of the movie.
Navdeep is like a 'super hero' climbing, jumping with superb ease. Kim Sharma looked rather jaded in the role.
There's nothing much to talk to about the technical aspects of a film (even the editing by Marthand Venkatesh is not upto his usual standard) which is badly scripted.
On the whole, director Arun Prasad has given us an insipid potpourri which one can easily avoid.
Rediff Rating: