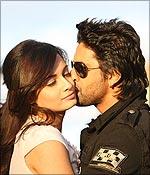 Lage Raho Munnabhai was a smash hit even though the hero Sanjay Dutt is delusional through most of the film.
And in Bollywood when a film is successful most producers would like to recreate a variation of the same formula keeping their fingers crossed that the old magic will work again.
Hum Tum Aur Ghost apart from having a similar formula also has all the old favourites from Lage Raho Munnabhai, Arshad Warsi, Dia Mirza, and Boman Irani.
 Arshad Warsi (Armaan) is a high flying photographer whose personal life is in the doldrums. Due to his penchant for the bottle he's about to mess up both his personal and professional life. His girlfriend Gehna (Dia Mirza) vacillates between loving him intensely or wanting to dump him and move on in life. Because his alcoholism isn't the real problem! Arshad is seeing a psychiatrist as he hears voices all the time especially at home when he's alone. So he drinks himself silly, sleeps at railway stations only to run away from the sound of these voices.
But nothing seems to work. Till one day Arshad is convinced that he can actually communicate with souls who haven't become angels. Souls who are spiralling the earth because they have some unfinished business to be taken care of! His doctor is convinced it's schizophrenia. Dia is torn between wanting to believe the doctor or trusting her instincts…
The first half of the film retains a light peppy mood despite the seriousness of the situation. Most of the outdoors have been shot in London and the film has an interesting look and feel to it. Zippy cars, great cafes, a fantastic duplex apartment all succeed in imparting the film with a happy look.
Arshad has his capable assistant Sandhya Mridul (Mini) to take care of him while he is at work. Sandhya Mridul may not have much work but she does take good care of her body. She brings the same energy onto the screen that she has in her earlier films Page 3 and Honeymoon Travels Private Limited.
Dia is the surprise package of the film. She has shed oodles of weight and might just be successful in making a transition from being a supporting actress to becoming a leading lady. Arshad thankfully has distanced himself from his 'circuit' personality. His performance especially in the first half is restrained rather than overplayed.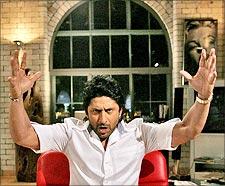 Boman Irani tries very hard, but his character doesn't have any dialogues or scenes which make an impact. Such a pity because in the right role this versatile actor has the audience eating out of his hand!
Ashwin Mushran the ruthless son from Lage Raho Munnabhai (who dumps his father into an old age home) is back and he plays a similar character all over gain.
The plot contradicts itself. On one hand ghosts are people who know instinctively what is happening on earth, and on the other hand Arshad is asked to locate people who disappeared 30 years ago.
It's in the second half that the director gets the genre totally confused. The film suddenly turns into a tearjerker. Agreed Arshad only wishes to help people who are in a genuine crisis. But did it have to be so melodramatic?
The film is short but the climax could have been far shorter. It seems stretched and contrived and Arshad hams it up especially towards the end.
Apart from being the producer, Arshad is also one of the co-writers of the film. The premise of the film has its heart in the right place. But the script doesn't evolve from one scene to the other. It resembles a car that lurches forward again and again moving a few feet ahead before it comes to a slow and agonizing halt.
The music is by Shankar Ehsaan Loy and lyrics by Javed Akhtar. Yet not a single line remains with you as you leave the auditorium.
Dia and Arshad are fun to watch together. See the film if you are a diehard fan of either. Or else watch it on DVD.
Rediff Rating: