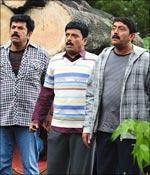 It is a very common practice in film industries around the world to bestow informal titles on people or add superlatives to their names according to their talent or even their luck.
So, for the people in front of camera we have superlatives attached with the word star like superstar or its variants. Or hit-maker and its synonyms if the person works behind the camera.
One such person is director-producer-actor Lal, who began his career as one half of the directorial team of Siddique-Lal. He turned producer after splitting from his friend and later even acted in Malayalam and Tamil films.
Last year he returned to the director's chair with the sequel to In Harihar Nagar (his own successful film of the previous decade about four jobless friends, trying to woo a girl who has just arrived in their neighbourhood). The sequel, 2 Harihar Nagar, deals with the same four friends returning to the same colony on a short holiday to relive their past.
This year he has come out with the third instalment, In Ghost House Inn. The film revisits the four friends Madhavan (Mukesh), Govindan Kutty (Siddique), Appukuttan (Jagadeesh) and Thomas Kutty (Ashokan) who now head to Ooty to spend a week in a mansion purchased by Thomas Kutty with the intention to convert it into a tourist resort.
But Thomas Kutty has neglected to tell his friends that the mansion is haunted. As expected, humour plays a prominent role here. So, every scary event ends up being an opportunity to laugh out loud. This continues till the end of the first half.
Things become serious in the second half with the appearance of cross-wielding priest played by Nedumudi Venu.
All in all, this third instalment comes without much of a story line compared to the earlier films.
Rediff Rating: