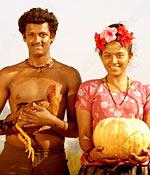 It takes a great deal of guts and enormous research to produce a realistic story -- and even then, the risks attached to making it watchable are truly many.
In that respect, Ayngaran International's latest Tamil venture, introduced under the unassuming, if chaste name of Angadi Theru (Market Street), directed by G Vasantha Balan (of Veyyil fame), is a wonderful product that manages to satisfy almost every criteria of worthwhile filmmaking.
The movie begins with a bang -- literally. Post a rather nicely picturized song, as the protagonists slosh their way through the rain-drenched streets of night-time Chennai, the scene shifts to the pavements near Udhayam Theatre, where labourers are fast asleep.
The lead pair searches for space to bed down as well (one worker asks the two to smear cement on their feet; otherwise, the police would haul them off) and do so -- when a lorry rams into another vehicle and then piles into the labourers in a horrifying, bloody mess.
Cue to quite a heavy flashback. You'd think that with its beginning in the beautifully named Ittamozhi Village in the Thirunelveli District, this is another village-based potpourri -- but AT makes great headway right from the beginning.
You have Jothilingam (debutant Mahesh), a school-topper in the Plus two exams, eager to study further -- but his father meets with a fatal accident, which puts a full-stop to his ambitions. The brilliant student is reduced to earning his keep to support his poor family -- and here, you have the director's master-stroke: he arrives in company of friend Marimuthu to the newly opened mega-store, Senthil Murugan Stores.
Here is where the title is justified, for AT revolves completely around, as the name suggests, one of Chennai's busiest market streets -- the Ranganathan Street, home to countless men, women, dreams, shops, business, success stores and tragic moments. It's as though a random couple in the street were chosen, and their life spun out on-screen.
To those who know the street and T Nagar itself, it wouldn't be difficult to guess which store the Senthil Murugan Store parodies, nor its owner, the infamous Annachi. The store's owner and his staunch henchmen choose boys and girls predominantly from the Nellai District, especially fatherless youngsters unlikely to raise a ruckus if things "go wrong," as they discuss among themselves.
Their job is to practically run the store from dawn to almost midnight, serving customers, running errands, counting stock, carrying tea -- and on occasion, being bullied and screamed at mercilessly by the store's supervisors. One of these, nicknamed Karungali (Black Leg) is a fearsome man, much given to shrieking rages and fits of fury, and the nemesis of every young worker in the store.
Unfortunately, working conditions are terrible, adding to Jothilingam's woes, the Mess, which serves the workers is almost sewer-like, with food dripping off tables, and everyone practically falling into the food, in their eagerness to eat. Living accommodations are equally bad, but there really is no choice, if you have to earn wages.
Among these miserable conditions, life does offer some relief: friend Marimuthu is a constant source of support and humour. And then there's Kani (Anjali), a spitfire of a girl with bright, mischievous eyes, a fiery spirit, strong heart and a will that will bend to no one. Jothilingam and Kani are always at logger-heads in the beginning, but after a few incidents, a gentle friendship develops, which gradually morphs into romance.
If ever a mega-sized store was pried apart and its innards thrown open to outsiders, this is really it. Richard M Nathan's wonderful camera-work takes you to new levels as Ranganathan Street is analyzed from every view-point, and the store's workings itself, shown to you, warts and all, in accompaniment to Sreekar Prasad's perfect editing, and the art-director's work.
There are intimate romantic interludes among co-workers; supervisors who take sexual favours when they can; love-poems that turn hilarious, blind road-side vendors who are surprisingly philosophic; physically challenged workers and faithful wives -- so many tales, so many situations, all happening simultaneously, with a poignant touch.
Jothilingam and Kani, meanwhile, fall slowly into love, going through experiences that test it every turn, while the store treats it the only way it can, even as it plays host to actress Sneha, who does a commercial for them.
While newcomer Mahesh has tried his very best to give a convincing portrayal, it's his friend Marimuthu and co-star Anjali who win the honours, not to mention the numerous secondary characters who play many memorable parts throughout the movie. In reality, though, it's Market Street that the real hero, and as alive as any of the humans on-screen.
While the first half is fairly racy, the second half falls slightly in pace. The screenplay is realistic, yes -- but the general sorrow and helpless frustration hangs in a heavy, depressing fashion.
Vijay Antony and G V Prakash's musical score, while not scintillating, provides an adequate back-up: Aval Appadi Onrum Azhagillai and Un Perai Kettal are melodious. The stunt director deserves a special kudos for making the stunts very realistic.
The real credit goes to Vasantha Balan, though, for coming up with a realistic movie without getting caught in cliched situations; for sticking a camera into reality and capturing a slice of life.
Fans of complete commercial ventures might find the going slow -- but Angadi Theru is, nevertheless, the kind of cinema you keep hoping for and only rarely get. A must-watch.
Rediff Rating: