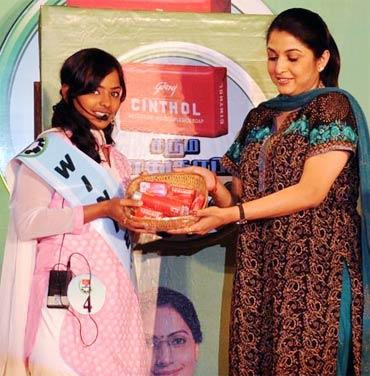 Sun TV's Tamil mega serial Thangam has been drawing eye-balls for quite some time now, with its star performer Ramya Krishnan.
Its makers have now taken the next step in promoting it -- the Cinthol Saruma Padhukappu Sawaal, promised a unique prize -- a chance of acting in the serial as a prominent character. 
Around 2,376 people participated out of which 16 eventually made it to the finals after a testing time of parading their skills in short skits, dances and songs
In the end, it was Coimbatore girl G Vidya who walked away with the honour of sharing screen space with Ramya Krishnan, much to the appreciation of the judges, director T P Gajendran and director-actor Santhanabharathi.
In this interview with rediff.com, Vidya shares details of her journey to serial-stardom. Excerpts:
This is quite a leap from obscure college life to Sun TV's mega-serial. How did it happen?
I never expected it to happen [laughs excitedly]. You see, I'm not really interested in serials, but other members of my family are. A lot of my relations are trying to get into serials, but there hasn't been much success so far. But I made it and I wasn't even a participant in the beginning.
I'm in my final year of IT at Sri Krishna College in Kuniamuthur, and on the day of the first auditions in Coimbatore, I went with my sister to the competition as a volunteer. I was with Mr Vittal Narayanan, who was overseeing their performances. I would frequently explain to the participants exactly what the judges were looking for, even acting out the situations. Mr Vittal Narayanan finally said that I was doing a much better job than the participants themselves! He said I was being a great Assistant Director, and that talent should never go to waste. He made me participate as well.
I was given the situation of being kidnapped by terrorists. I had to show anger, fear, and helplessness. I threw myself into the role and it was greatly appreciated.
I could hardly believe my ears when I was told that based on my marks, I was one among four people selected from our region for the next round! I was told it would be held in Chennai.
What was it like, participating in the competition in Chennai?
I have never been out-station in my life! [more laughter]. My mother is usually very worried about letting me go, but this time, she did.
I was a bit nervous because I was meeting the rest of the sixteen contestants who had come from other regions. But we all mingled very easily, and had a great time.
Basically, the days in Chennai leading up to the competition were full of workshops for us. We were given tips in acting. Everyday, there would be a surprise of some sort for us; actors like Chetan, Raghavi, Nithya, directors Santhana Bharathi and T P Gajendran came to visit us. Sometimes they gave us short lectures, and congratulated us on our work.
The second round was an elimination round. We were all paired off into eight teams. I acted out a situation between a mother and daughter. For the dance section, I danced to En Peru Meenakumari...
Isn't that a rather risque song? It's basically an item number.
I know and I was doubtful about that as well. But the choreographers felt that I should dance to it. I danced a few steps to the song, and the choreographer said he wouldn't coach me. When I asked why, he said I already knew all the steps, so what was there to teach?
Again, everyone applauded my performance. Three of us made it to the finals, and I was very afraid of doing something wrong. The compere kept calling out my name to perform first! This time, we were supposed to interact with some character in serials -- say, a mother, father or brother. I said that I was very nervous about interacting with a father character and hoped I wouldn't have to but that's exactly what I ended doing! I managed to act like a child talking to her father, and everyone really appreciated it.
What was your family's reaction to your win?
Everyone was very excited. My mother, who had so many reservations about sending me, was ecstatic. All my college-mates flooded me with calls, and my relatives were very proud, especially because some of them have been trying for a year and a half to get into serials! My photograph appeared in a newspaper and I was very excited about that too.
What's your character likely to be, in the serial? How long do you think you will perform?
I was told that the scope of my character would depend on how well I perform. Lately, they have eliminated a key character from the serial and I might be asked to play it. It all depends on how well I do.
Now that you've won a chance on a mega-serial, do you think acting will be your career?
Actually, I'm still very confused about that part [laughs]. I have always been a chatter-box and I like acting. As of now, I have my exams this month, and I will be starting on my role after that.
Watch Thangam on Sun TV, Monday to Friday at 8.30 pm.
Image: G Vidya and Ramya Krishnan