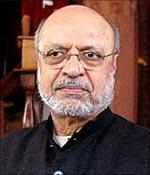 His latest film, Well Done Abba, released across screens last week. 
A sense of practicality and idealism mingle in the works of veteran director Shyam Benegal, says Abhilasha Ojha. The simple and uncluttered living room at his home in New Delhi speaks eloquently of the man himself.
Veteran film director Shyam Benegal's work, spanning over three decades, has been appreciated over the years both by critics and audiences alike. Trophies and awards quietly line one of the bookshelves, as we sit down to talk on the subject closest to his heart -- films. 
Benegal is now awaiting the reactions of audiences for his newest film Well Done Abba, which released last week. It is unfortunate, however, that the release came amidst the IPL hysteria. Did this perturb him?
"The release, marketing, it's really the strategy of the producers. I try not to interfere after a point. No one wants a film to release on the grand finale of IPL but since we're one of the few films to take that chance, hopefully, it'll work out," he says. 
Benegal, regarded as one of India's most talented directors, is behind some of the most important films made in the Hindi film industry. Avid film buffs (and not just students of Hindi cinema) will tell you that Benegal's works are important in reflecting not just the change in Indian cinema but also society to a large extent.
Many, including films such as Ankur (1973), Nishant (1975), Manthan (1976) and Bhumika (1977), have contributed significantly to the "parallel Indian cinema" movement.
Women in his films are steely yet exude warmth -- Shabana Azmi's role in Mandi, for instance, is that of a practical yet sensitive brothel owner, one who is unflinching when it comes to her trade but who wouldn't force a woman to have sex without consent.
Then there's Mammo, a moving story about two elderly sisters who live together and experience the uncomfortable tug and pull of relationships. 
In Zubeidaa, the lead actress, around whom the story unravels, remarries against her parents' wishes, leaves behind her young baby, but continues to possess grace and dignity. 
How does he view Indian cinema, and how easy or difficult does he find working in Bollywood today?
He pauses for an answer, "Marketing of films has changed. It's important for your film to create elbow room in the media clutter and in that sense, it's important for the film's marketing to be attractive."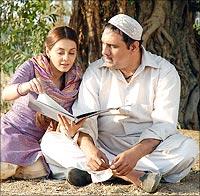 A reason why marketing has become important is because "if [audiences] don't know about your film, it's as though it doesn't exist". 
Benegal is quick to point out, however, that as a film director what he really risks (more than money) is his creative ability, his reputation as a filmmaker. "[Producers] risk money that has been invested in a project," he adds.
Then, because of the multiplex culture, it has become easier for filmmakers to make "original films".
"You don't lose out on audiences, you create space through multiple screens," he says. "Why, you can watch a film on a mobile phone too," he shakes his head and laughs, quickly adding, "The approach to filmmaking is undergoing a change too." 
It could be this 'change' that has prompted Benegal to work on a script where he will make a film in the graphic novel style. Something like Persepolis?
"It's too early to tell, it's a thought and I'm working towards it," he says, unwilling to give further details. That apart, Benegal also believes that the Hindi film industry, especially in the current context, is "luckily" getting directors to create more believable characters.
"Films, earlier, were 'morality tales' where there were good guys and bad guys. In reality, however, people have an amoral side, immoral side and, of course, a moral side. I like the way directors project characters in today's films," he says. A case in point, he says, is Abhishek Chaubey's Ishqiya, where the protagonists have a "mean" side to them, which is nicely brought forth in the story.
"A film like Ishqiya deals with a story that's set in a small town and not a metro. Yet, it engages you and does well critically and commercially too," he adds. He could well be talking about his last film, Welcome to Sajjanpur, released in 2008, which was a sleeper hit.
Set in a fictitious village in Madhya Pradesh, it was a political satire, one which presented younger stars like Amrita Rao and Shreyas Talpade in completely new avatars.
"In contemporary Mumbai films, by and large, the Indian village had dropped off the map completely. I wanted to revisit rural and semi-rural India in the context of the changes that were taking place, what with globalisation and liberalisation," reasons Benegal.
"It's important to examine the change happening in the smaller cities and villages in India." 
His new film, Well Done Abba, produced by Reliance Big Pictures, stars Boman Irani, Minissha Lamba and Sammir Dattani. It looks at the story of a village close to the city of Hyderabad and how a government scheme becomes a scam, sending a simple family into a tizzy.
"It's a modest budget film," Benegal says. Just how important is budget?
"Big or small, the entertainment factor is what should be big for audiences. That's all that matters," he says with a smile.