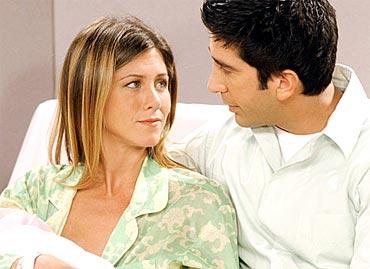 For years they were on-off lovers in TV sitcom Friends but now Jennifer Aniston has fallen out with her former co-star David Schwimmer.
The pair are not talking after Jennifer said on US TV she had "no idea" who Schwimmer was marrying, Daily Mail online reported.
Earlier this month, it was reported that Schwimmer, 43, planned to wed his long-term girlfriend, photographer Zoe Buckman, 23, prompting the star to announce the happy news.
But when Jennifer, 41, was quizzed on the popular David Letterman chat show she confessed she "didn't know" who he was going to marry.
"David was not impressed that one of his supposed friends didn't know who he was marrying," said a source. "He has been with Zoe for a couple of years and was offended Jen couldn't remember her. He hasn't been taking her calls," the source added.