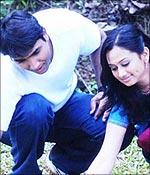 35/100... Just Pass may not stand out for its 'many boys falling for one girl' story line, but it surely scores above average when it comes to its narrative techniques.
Debutant director Deepak has approached the this-could-happen-to-anyone Kannada story from a fresh perspective and he deserves a pat for his efforts.
The college love story has Ankur (Vikram Joshi) and Shiva (Raghu) along with a host of their college mates trying to woo pretty Preeti (Shweta).
Ankur is the soft spoken, good natured guy and Shiva, the rough and tough one. While it is the thick friendship between Preeti and him that prompts Ankur to take their relationship further, it is a classic 'the girl's dupatta brushing across the boy's face' filmi scene that kindles feelings in Shiva's heart. A song or two later, not to mention the pep talk on love from friends, the leading contenders decide to propose to the girl. The boys muster courage and express their feelings to Preeti on the last day of college. Who passes the test of love? That's for you to find out.         
Just Pass is however more than a love story. It speaks of hostel life and college fights as well. The costumes, locales and dialogues add to the as-real-as-it-gets feel. It comes with a message but not in a preachy way. The film uses a back and forth narrative style. Lighting techniques used also need a mention. To highlight past events, sepia mode has also been used in a scene.
Another thing that makes the film interesting is that some scenes have been repeated so as to project the points of view of each of the main characters. This allows you to decide who among them was right and who was wrong. This technique however adds to the length of the film.
Music composer Pranav and his team of singers pass with distinction. All the numbers come with simple lyrics and soothing tunes. Background music also makes an impact. None of the songs are lengthy and they succeed in conveying the mood well. You'll surely want to listen to them more than once. Geechi geechi bookella khali, kanasu mugiyadu... is particularly a good composition.
The dialogue writer could have done better in the humour department, though. Coming to the cast, first time actors Vikram and Raghu get into the skin of their characters with ease. Shweta looks like a college beauty. This team deserves encouragement for its effort and presentation.
Rediff Rating: