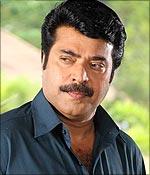 Some filmmakers find a comfort zone for themselves as their career progresses; the comfort zone can be story, or the style in which it is told or the technique in which the narrative unfolds.
And, as the time goes by this comfort zone becomes a director's trademark or stamp, which in reality is a director's limitation. These thoughts come to mind while watching Pramaani, Unnikrishnan B's latest Malayalam movie starring Mammootty.
This is Unnikrishnan's first film with Mammootty, who has previously made Madampi with Mohanlal in the lead. So, we can clearly see the stamp or trademark taking shape in Unnikrishnan's stories.
The story of Pramaani is about Viswanath Panikar (Mammootty), a corrupt Panachayat President nicknamed America as he has knack of getting involved in other people's disputes pretending to solve them and gaining whatever is possible from the situation.
He has a weakness for land and would grab it at any cost. This he does by taking advantage of his position. But, he registers the properties in cousin Somasekharan's (Siddique) name, just to be on the safe side. The conflict begins when an upright lady Janaki (Sneha) takes charge as the secretary of the Panachayat. She questions the corrupt ways of the members and even stands up against president himself.
The basic mould of this story is same as Madampi. Just the money lending business of the previous film is changed into the dealings of the Panachayat. But, this film feels a bit superficial. From the start it looks as if this film is made to please the fans of the mega-star. And, every few minutes we are assured that the hero may have negative traits.
But, basically he is a good fellow and that he would have a change of heart any moment. It seems as if the director felt insecure to paint his man fully black (or at least keep his golden heart under wraps till the fag end as he had done in Madampi).
Mammootty may please his hardcore fan by playing to the gallery. But, his character sketch lacks something vital that can tug at our heart strings. We can never take the situations he finds himself in seriously, as we very well know that he will easily overcome them. We do not feel the emotional turmoil he has gone through to be what he is now.
Siddique and Suresh Krishna play typical villains. The much hyped cameo by Prabhu is just for a few minutes. Lakshmi's appearance as the mother figure impresses. But, her presence does not do justice to her stature as an actress. Sneha makes her role worthwhile even if it gives a feeling that it could've been bettered.
In the final analysis, Pramaani delivers only on one promise, that being a star vehicle. In every other aspect it fails.
Rediff Rating: