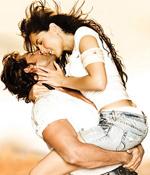 It's been awfully long since one saw Hrithik Roshan do his thing on celluloid. And so for those who've had enough of seeing the charismatic star in biscuit commercials, he's back with director Anurag Basu's long-anticipated Kites.
Produced by papa Rakesh Roshan, like most Filmkraft offerings, this romantic thriller too is a family affair with younger brother Rajesh Roshan helming the soundtrack to Nasir Faraaz and Asif Ali Beg's lyrical imagery. Meanwhile, Mexican hottie Barbara Mori and National-award winner Kangana Ranaut fill the leading lady slots.
Though not too extensive the soundtrack bears a sense of connection and mirrors the mood and moments of its sinister, forbidden-romance theme.
An exceptionally smooth KK mulls over life, love and the pointless need to deny either the satisfaction of adventure in the free-flowing blend of sitar and electric guitar in Zindagi do pal ki. There's something palpably understated and charming about its sentiments and arrangement making it effortless for the listener to fall for its reflective simplicity at once. The remix, bolstered by noticeable club sounds, is particularly bland and it would be sensible to stick to the original.
Love ballads have always been a KK specialty. Be it Om Shanti Om's Aankhon mein teri ajab si or Bachna Ae Haseeno's Khuda jaane. The singer returns in the next track to exude the poetry and passions of a throbbing heart in the silvery, serene Dil kyun yeh mera. Its laidback pace and a attractive use of oboe lends Dil kyun a lullaby like softness and appeal. Interestingly its remix, while retaining its innate mellowness, slips into a nifty rap 'n' roll skin and works too.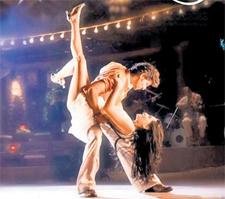 Just as you are getting comfortable to the soothing sounds of its soundtracks, Kites lays out a blaring portion of non-melody. If the idea was to convey attitude, the topsy-turvy tempo, overtly-stylized orchestration and jarring aggression -- Vishal Dadlani and Suraj Jagran -- in its delivery do anything but. Despite these excesses, Tum bhi ho wahi is an awkward mish-mash of bland cacophony. Considering the aversion the main song brings about, the remix never really had a chance. Even so, between the two, the latter is a tad more tolerable.
To make up for the above monstrosity, Suzanne D'Mello volunteers to provide some comfort as she mellifluously coos in Spanish followed by Hrithik Roshan's free-flowing English rendition of Kites in the sky. Wielding the microphone for the first time, the actor is mighty impressive. There's an enchanting sparkle to his vocals reminiscent of Moby's style in Porcelain, that doesn't lose grip even while raising the pitch. Rajesh Roshan wisely keeps it minimalistic allowing his singers paint the bilingual composition with their sizzling diversity. Good stuff, this.
New age marries electronic music in this Robert Miles-meets-Paul Oakenfold brand of fiery and racy techno cocktail, Fire, high on a booming chorus (Vishal Dadlani, Anushka Manchanda, Anirudh Bhola, Roshan). It possesses the kind of drama and punch, which works both as a dance track for Duggu to demonstrate his nimble foot-work as well a hard-hitting background to prop up adrenalin-pumping action.
Rajesh Roshan's score stays true to his tangent, traditionalist style while embracing modern sounds that impart Kites its smooth flight and soaring touch.
Rediff Rating: