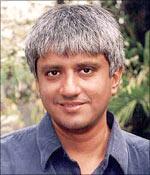 Vikram Bhatt's latest horror film Shaapit may not have set the box office on fire but that has not diminished the confidence of the filmmaker, who feels that he can work without stars.
After 1920 and Shaapit, Vikram seems to be working primarily with newcomers and the director says it easier to have new faces than wait for the availability of stars, which delays your project.
"I do believe that there are some films that cannot be made without stars. But then the bitter truth is that those who are available are not saleable and while the ones who are saleable are not available.
"In such a case, the best choice for a filmmaker is to make him a brand name. As far as horror films are concerned, I guess Vikram Bhatt is a brand name. Now as long as I have that core competence, I don't need a star," Bhatt told PTI.
Shaapit marked the debut of Bollywood playback singer Udit Narayan's son Aditya Narayan and Shweta Agarwal, but could not manage to make a similar impact as was the case in Raaz (Dino Morea, Bipasha Basu) or 1920 (Rajneesh Duggal, Adah Sharma), both of which had Bhatt at the helm of affairs.
But Bhatt, who has given hits like Ghulam and Kasoor in the past, defends his choice.
"I believe Aditya was always just the right face for Shaapit. He was the first and only choice and even after the release of the film, I am very positive about his future. He is a superstar in the making. He is also a very good singer," said Bhatt.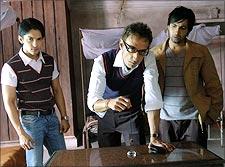 There is also a slight buzz in the industry that it was Udit's influence that helped Aditya bag Shaapit, but the director denies it.
"No, that's not true at all. Udit Narayan had nothing to with the casting decision for Shaapit. Of course, since Aditya is his son and I know him for decades, I approached him before signing Aditya," said Bhatt.
"The script of Shaapit was such that the leading man couldn't be shown indulging into anything heroic. In a horror film the protagonist should be vulnerable enough for audience to be worried about him. You can't have a six feet boxer and expect audience to worry about him. Instead, they should be scared for the lead couple," the filmmaker added.