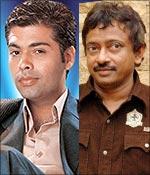 Stars should really think twice before tweeting what's on their minds.
Take Karan Johar, for example. The filmmaker took a little dig at Ram Gopal Varma when he tweeted, "Early morning dreams come true? I dreamt I was watching Phoonk 2 and holding Ram Gopal Varma's hand in fear. Is that a possibility?"
While we have to wait till April 16 to know about the sequel's fate, we may not have to wait too long for RGV's reaction to the tweets as there's a possibility that Varma may not take too kindly to the dig.
After all there's no love lost between the two before their truce which came after Karan congratulated Varma on the success of Phoonk.
In 2008, Karan Johar in one of his blog messages had stated, "I don't hate Ram Gopal Varma. Hate is too strong an emotion to waste on anyone or anything.  I regard some of his work and I am indifferent to others. He is no friend of mine and will never be, but I see no reason to bear any animosity towards him; the poor fellow can do with some love. This is my reaction to a series of questions I have been asked about the status of my emotions towards him recently".