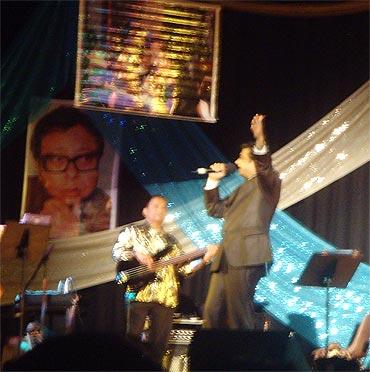 Reader Perdy Mohindru from Auckland, New Zealand, sent us this article and picture of Amit Kumar's concert in New Zealand recently. With A R Rahman's world tour all set to take off this June, we bet many of you will want to share your experience of enjoying the maestro perform. Feel free to mail us your write-ups, videos and photographs to moviesdesk@rediff.co.in
He may be a forgotten entity as far as Bollywood is concerned, but Amit Kumar is still popular in the 'City of Sails.'
Amit, the elder son of legendary singer-actor Kishore Kumar, mesmerised Aucklanders with his power-packed performance. It had all the ingredients of a Bollywood movie, from singing to dancing to acting to comedy.
Besides paying tribute to his dad, Amit also honoured his mentor R D Burman at the concert held on May 1 at the Logan Campbell Centre. Amit's wit and humour on stage, coupled with his melodious singing and dancing, won over the hearts of one and all. His performance was reminiscent of Kishoreda in many ways.
The show, titled 'Yeh Zameen Ga Rahi Hai,' was conceived and directed by Gopal Bhatia along with Sur Sangam.
Amitda, as he is fondly called, enthralled the Indian music starved Aucklanders with his songs, coupled with anecdotes from his dad's and his own musical moments with music directors, directors and actors. His powerful voice, coupled with mimicry of his dad, S D Burman, R D Burman and O P Nayyar set the audience laughing.
Amitda started the musical evening in a dynamic manner, with typical Kishoreda flavour, singing the introductory Mere pyaare bandhuon. He quickly switched gears, with a beautiful and soulful rendition of Bade achhe lagte hain from Balika Badhu. This was the song that had catapulted him to stardom in Bollywood 35 years ago. The applause from the audience said it all.
Another song that got Amitda and the audience nostalgic was Yaad aa rahi hai, the super-hit number from the 1980s Bollywood blockbuster, Love Story, starring Kumar Gaurav and Vijeta. Amit fondly remembered the sweet memory attached with this song, as he had won his first prestigious Filmfare award for best male playback singer.
Amit's funny, sometimes weird, yet comical gestures, like shaking his body or doing the twist, hands trembling or head banging like rock stars do or just jumping like a 10-year-old kid left the audience craving for more masti.
Amit's brother Sumeet, who is much younger than him, provided the youthful element. He belted out some memorable Kishoreda hits like Chala jaata hoon kisi ki dhun mein, a song that was one of the biggest chartbusters of its time and still sounds fresh after so many years.
The music lovers of Auckland loved the yodelling element of Sumeet's rendition. My favourite was Jaane jaan sung by Sumeet in a very peppy style, even as he retained the old flavour of Kishoreda in the song.
Amit's new album Le Chalo was officially launched in collaboration with Radio Tarana. Amit then rendered a song from the album.
Another highlight of the show was having top Bollywood musicians like Kishore Sodha playing the trumpet and Riteish playing the lead guitar. It was heartening to note that Kishore Sodha had played alongside Kishoreda in most of his concerts. Riteish was awesome on guitar, as he strummed some golden melodies
Makrand, a Kishore param bhakt (a Kishore admirer) from Pune, was introduced to the Kiwi audience. It was amazing to note that Makrand had sung 80 Kishore songs continuously over a period of five hours to pay tribute to the maestro on his 80th birthday last year.
Our local version of Kishoreda, Gopal, rendered a couple of Kishore gems including the evergreen Neele neele ambar pe.
The audience cherished the moment when Amit and Sumeet sang the peppy and vibrant Babu samjho ishare from the flick Chalti Ka Naam Gaadi; the Ganguly brothers nailed the song. Amit's imitation of Kishoreda's elder brother, Ashok Kumar (Dada Moni), was quite comical; the crowd loved it.
The show ended with some racy tracks like Laila o Laila, Yeh Bambai shahar and Dil main baji guitar.
Overall, it was a memorable musical evening that could have been better if Amitda or Sumeet has sung some more songs. Some of the audience members felt a bit let down as Amit did not perform some of his own super-hits like Oye oye, Aati rahengi baharein, Ek do teen, Tip tip barish, To rootha toh main, Makhana, etc.
Also, one would have expected the main stars of the show to be singing right at the start and not close to 9 pm. Maybe, we could have seen a little less of the local artistes. Hope the organisers will improve on this next time around.
But, one thing is for sure, the magic of Kishoreda still reigns supreme, whether it is India or New Zealand. We can proudly say that Kishoreda and Panchamda were true legends of Indian music. Their memories will always linger on in our hearts and will always make us proud as Indians.
Indians settled in New Zealand felt connected to their motherland through this wonderful evening. Amitda surely rocked. The fragrance of this musical bonanza will linger on for long.