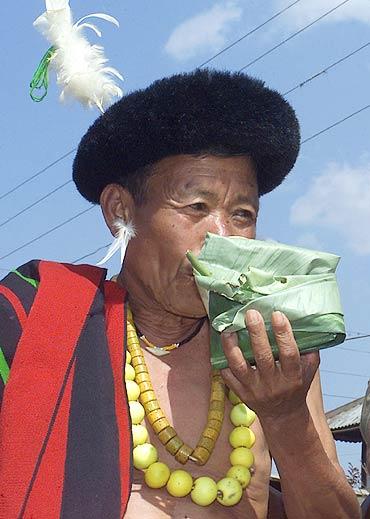 The Konyak Nagas, a tribal people from Nagaland renowned for their ferocity, headhunting and many tattoos, find themselves the subject of a short English film featured at the annual Cannes Film Festival, the 63rd instalment of international filmdom's most prestigious film fair.
The 15-minute Last of the Tattooed Head Hunters, directed by Vikeyeno Zao and produced by Indrajit Narayan Dev and Hawksbill Productions, captures the Konyaks in all their essence: their environment, their traditions and customs, their way of life and their reactions to encroaching modernity.
The script was written by a retired Indian Air Force veteran, Air Commodore D J Sharma.
Last of the Tattooed Head Hunters will be screened at the festival's Short Film Corner, which begins on May 12.
The filmmakers have said the film has historical importance, as the tattooed Konyak Naga tribes are under threat of being wiped out all together.
'The film is based on the ritualistic details connected with the head hunting tradition of the Konyaks, with attempts also being made to project their traditions and ancient customs. The principle reason for making this film is to tell the people about the tattooed head hunters before they are gone,' Northeast Beats, a NE India focussed-blog, quoted Vikeyeno Zao as saying.
The blog also quoted the scriptwriter, retired Air Commodore Sharma: 'The aim is to highlight the Konyak Nagas and their practice. It is easy to label them as savages but we should try to examine the reasons for them following this practice.'
Speaking on her surprise inclusion at Cannes, Vikeyeno reportedly said: 'We are deeply honoured, even though the news is yet to sink in. When we first heard the news, we thought someone was playing a prank on us. But we are glad that our hard work has paid off.'
Image: An Angami Naga tribesman drinks traditional rice beer during the "Sekrenyi" festival in Kohima in this 2004 file photograph. Photograph: Utpal Baruah/Reuters