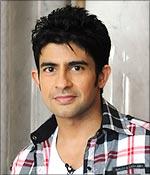 Hussain Kuwajerwala is back as host of Indian Idol season five.
Giving him company is co-host and first Indian Idol winner Abhijeet Sawant in the theatre and gala rounds.
Kuwajerwala tells Rajul Hegde what to expect this time around. Excerpts: 
Are you excited to be the host of the show once again?
Indian idol is a fun show and the excitement is always there. It's the entire journey of the contestants from nobody to somebody. Of course we also feel sad when they they don't make it. It's a new bunch of youngsters with their dreams. As a host I will be their dost and host.
What was the reason for you to replace Prajakta Shukre [she had hosted auditions across the country along with Abhijeet Sawant]?
It's wrong to say that I have replaced her. If you watched last year's auditions, they had different anchors. I assume that it could be because they can give more chances to idol contestants and also the participants can relate to them easily.
Plus even the hosts can connect with the participants as they have also been through the same thing. I was not on board from the beginning, but talks were on and eventually everything fell into place.
How different are you going to be this time?
Though the format is same, presentation, judges and the participants are different. Obviously when you meet different people you tend to react differently because the situation and problems are not same.
The whole team works hard. The judges are also trying to be judge the contestants in a different manner. For example, they're asking them to sing in different rhythms. Even the chemistry I share with Abhijeet will be different from the one I shared with Mini Mathur and Meiyang Chang.
Do you think good hosts are born or they develop skills over time?
I think its built overtime. Here I can only speak for myself. When I started off, I was not inclined towards anchoring. A friend of mine gave me an opportunity and told me to try it out. I made the best use of it. I would say that I have grown as an anchor. It's a long process.
Which has been the best reality show you have hosted so far?
Idol has been my best experience so far and it's not just because I am hosting it. There is a fun element to it -- the atmosphere is lively and I don't feel like I am working. Everyone likes to hear good music and it's nice to listen to different voices. We do feel bad when people are eliminated but that's reality.
This season your wife (Tina) is designing your costumes...
Yes. Honestly she makes me look good. She designs according to the format of the show. She likes to experiment on her husband. She is her biggest critic, sometimes it works and sometimes it doesn't but that is okay.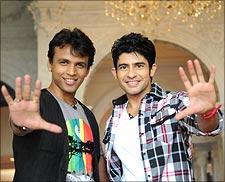 You are doing a musical play, Kingdom of Dreams produced by Wizcraft. Can you talk about it?
Kingdom of Dreams is a good Bollywood masala musical of two hour duration. It will be staged in Gurgaon and Delhi. 
The crew consists of Javed Akhtar (writer), Shankar-Eshan-Loy (music), Shiamak Davar (choreographer) and Allan Amin (action director). It is a big opportunity and a leaning experience for me because all these talented people are involved in it.
We have just started the rehearsals.
How will you balance your Idol duties and the musical?
Wizcraft is producing both the shows, so they will manage it.
What about your film career?
I did expect a lot from it but it didn't take off. It happens to even the best of us. Right now I am looking forward to Idol and Kingdom of Dreams. But I will try my luck once again [smiles].
Was it a deliberate decision to stay away from daily soaps?
Yes. When you are working on television for so long you want to try different avenues. Luckily I got these offers. Otherwise I would have done more soaps.
How do you stay fit?
Its part of my profession and If I don't stay fit nobody will hire me. If you are a foodie like me you cannot afford to put on weight. Honestly speaking, I have never gone on a strict diet. I work out religiously so that I can eat whatever I want. I am a hard core non-vegetarian and I love chicken. I avoid fried food and eat more of tandoori stuff. I love fruits and that is also major part of my diet. Plus I have chawan prash and honey which works for me.